The Barilla films for Carosello advertising (1956-1977)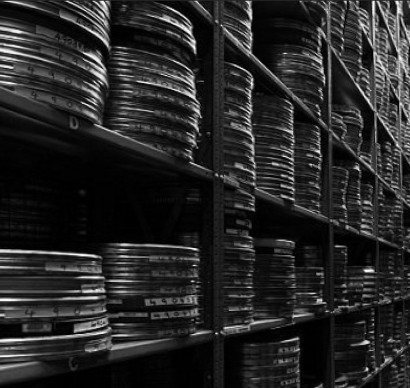 by Giancarlo Gonizzi
– SIPRA called. They were talking about old films. Could you call them back? – It was Anna, the secretary of the President, and she was giving me their contacts. SIPRA was the RAI agent for advertising and Barilla had been promoting its products on television channels for years.
I called them with curiosity, but I did not realize what was about to happen.
-We need to free space in our deposits. There are hundreds of films of Barilla commercials. Can we throw them away, or will you take them? – My heart had a jump – Do not throw them away! We will surely take them. But, how many are there? – The question remained unanswered.
One week later, a truck unloaded twenty pallets overflowing with rusty metal boxes in the courtyard of the factory. Mrs. Natalia told me immediately about it, and we found a deposit where we could store them for the time necessary to decide what to do.
I picked up a random box and brought it with me at the Archives. I cut the ribbon that sealed the cylindrical box and extracted a 35-millimeter reel. I got close to a window and I unfolded about a meter of film: spaghetti and forks on a sky blue background, a Barilla logo. Outstanding. But, what was it? A label in bad conditions on the lid read "Sincromofonia Paul Bianchi Sipra" (photos 1-2). Total darkness. I explored other pallets. On the labels in sight, the names Albertazzi, Mina, Ranieri, Casadei showed. It was total darkness, but with the awareness that those were important names.
–I wonder, will these really have in them what is written on the outside? – I spoke about it with Dr. Ganapini, at the time Pietro Barilla's right hand.
We decided to find a production studio that could review all of the materials using a cinema projector and that could write short identification record cards. On the base of these, once doubles were eliminated and the material was placed in order, we could transfer all that deserved to be saved on magnetic tape
I personally brought the materials to the Diaviva studios of Reggio Emilia and after an hour of film viewing I was aware I was sitting on a treasure.  Pulcinella (photo 3) animated by Lele Luzzati (1921-2007), Giorgio Albertazzi (1923-2016) reciting poems (photo 4), Dario Fo (1926-2016) and his crazy scketches (photos 5-6); Mina (1940-) singing for  Barilla (photos 7-12) directed by Valerio Zurlini (1926-1982), Antonello Falqui (1925-2019) and Piero Gherardi (1909-1971), Massimo Ranieri (1951-) who sung in the Italian squares (photos 13-14) directed by Richard Lester (1932-) e Mauro Bolognini (1922-2001); Raoul Casadei (1937-) playing his popular tunes (photo 15) directed by Enzo Trapani (1922-1989) and Florestano Vancini (1926-2008); the television history of the company, that was believed to be lost forever, had been miraculously found again. The operation deserved great attention and care.
We learned the meaning of words like positive, negative, SAV. We discovered notes written on the film with a dermographic pencil, we photocopied all of the hand written labels transferring the data on paper cards that were used to create long strains of data, organized year by year.  That made the backbone of the chronologic order archive that was created later.
With the use of a slow motion camera, we made a selection between double films, choosing the best quality ones with no cuts or lines showings. In the end, once the doubles were eliminated, a single series of 653 films dating between 1956 and 1978 was left. We ordered new metal boxes from Milan, and printed new adhesive labels to organize the collection. Old dismissed armoires from CED with racks to hold tapes were perfect to store the "film pizzas". This work took several months and was the backbone of Barilla's audiovisual archive.

Thanks to the films that were saved and later turned into "television cinema" with the aid of magnetic tape, it was possible to study and document the history of cinema and television advertising of the company.
In recent times, starting from these tapes, it was possible to digitalize in high definition the entire patrimony. However, the films made it possible to have hundreds of images to publish featuring some of the most important names of the world of Italian show business, thanks to their physical nature of photograms.