EMANUELE LUZZATI – Illustrator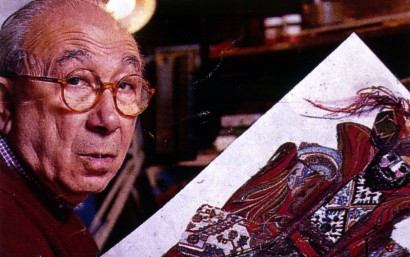 (Genoa, 1921 – 2007)
Emanuele Luzzati was born in Genoa on June 3, 1921 and lived between Genoa and Rome. He studied and graduated at the Losanna Ecole des Beaux Arts. A painter, decorator, illustrator, and ceramics artist he devoted himself very young to set designing and theater costumes and later to the making of animated cartoon movies (The Paladins, La Gazza Ladra (literally the magpie), Ali Baba, Turandot, Pulcinella – that obtained a nomination for an Oscar award – and the movie The Magic Flute) in collaboration with Giulio Gianini. Among his most important works for the theater we mention The Rhinoceros of Ionesco; The Dialogues of Ruzante, Rosencrantz and Guildestern are dead by Stoppard, Titus Andronicus, The Taming of the Shrew and Measure by measure by Shakespeare. Moreover, he made sketches for the sets and costumes of the most important Italian and foreign theaters and for the London Festival Ballet, the Glyndebourne Festival, the Chicago Opera House and the Staatsoper Theater of Vienna. As a ceramic artist he began his activity in Albisola, in the Bianco factory of Pozzo Garitta about thirty years ago. Since then he made a number of mural panels and sculptures and obtained various awards (among other things he made chiseled works, tapestries and panels for the transatlantic ships Andrea Doria, Leonardo Da Vinci, Michelangelo, Ausonia and Marco Polo). Together with Tonino Conte he created a number of shows dedicated to the world of children and devoted the large part of his activity as a book illustrator to this field: his images to illustrate the tales of Gianni Rodari are very famous. In the course of recent years he illustrated Candide by Voltaire and Twelve Cinderellas in search of an author by Rita Cirio and he edited a new version of La tarantella di Pulcinella (Pulcinella's Tarantella), the inspiration theme for his first short advertising film for Barilla that was made about the end of the 1950s and projected during intermission in movie theaters nationwide. The encounter between Barilla and Luzzati was favored by the intervention of Parmesan cinema critic Pietro Bianchi and found its completion also thanks to the bright and dissonant music of another man of Parma: the musician Gianfranco Maselli.
Once he left the advertising sector, that was not congenial to him, Luzzati continued his prosperous artistic career with extraordinary full length cartoon movies, exhibits and theater performances. In 1993, the Beaubourg of Paris dedicated a vast exhibit of the sets that he made from 1945 to 1992. He died in Genoa on January 26, 2007.
From Pulcinella to Papageno, from Ali Baba to Marco Polo, the characters drawn by the magic wand of Emanuele Luzzati, an incredible story teller and creator of enchanting tales, are infinite and all different, full of life, of color and dynamism, but also of a subtle, intimate and profound vein of simplicity.
Giancarlo Gonizzi