FLORESTANO VANCINI – Movie Director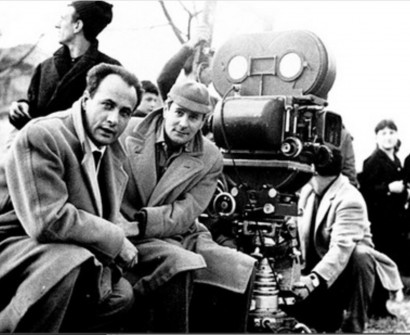 (Ferrara, 1926 – Roma, 2008)
Originally form Ferrara, he started his career as a journalist, then continued as a documentary director (Delta padano, 1951) and was assistant director of Mario Soldati in La donna del fiume (The River Girl) and of Zurlini in Estate violenta (Violent Summer) in 1959. He proved to be an excellent director in 1960 with his debut as a movie director with La lunga notte del '43 (Long Night in 1943) from a novel of Giorgio Bassani, also a native of Ferrara, in which a lucid and dramatic style joined by a critical spirit and accurate representation of reality emerged very clearly. These characteristic marked all of his following works. Vancini became one of the key figures of Italian political movies, and his films were pervaded by a strong ethical and civil commitment, and so through time works like La banda Casaroli (the Casaroli band) of 1962, Le stagioni del nostro amore (Seasons of Our Love) of 1966, a bitter and disenchanted look on the ideology crises of the second half of the 1960s, Bronte: cronaca di un massacro che i libri di storia non hanno raccontato (Bronte: chronicles of a massacre that the history books have not told) of 1972, on the epic of Risorgimento (the period of national unification) seen from the side of the defeated, aired in September 1974 on television, Il delitto Matteotti (The Assassination of Matteotti) of '73, Cadaveri eccellenti (Illustrious Corpses) of '75.
Vancini did not disdain the television experience that allowed him stylistic experimentation and innovative use of language. The series of commercials for Barilla filmed at the Ca' del Liscio, the cult dancing hall of Romagna date from 1975, and were interpreted by Raoul Casadei and his orchestra, and are characterized by a documentary style and "detached" point of view that makes them an instruments to read the taste of an era. However this was not the first experience in the field of advertising for Vancini: in 1968 he had filmed a series of spots for Grappa Piave with a successful documentary cut, exalted also in his television communication for Nescafé in 1979. In 1975 instead he filmed one of a great number of commercials for "the blonde" Peroni beer, interpreted by an unforgettable Solvi Stubig. Vancini worked again for television with one of the Dieci racconti italiani (ten Italian tales) aired on RAITRE in 1983, and with the second season of La piovra (the giant octopus) of 1986 and with the television drama La neve nel bicchiere (snow in a glass) of 1986, that narrates the story of a family of farmers of the Lowlands of the Po River Valley at the beginning of the 1900s. He died in Rome on September 18, 2008.
Giancarlo Gonizzi
Bibliography
GIUSTI Marco, Il grande libro di Carosello (The Great Book of Carosello). Milan, Sperling & Cupfer, 1995, p. 70.