The Adolfo Busi calendar (1931)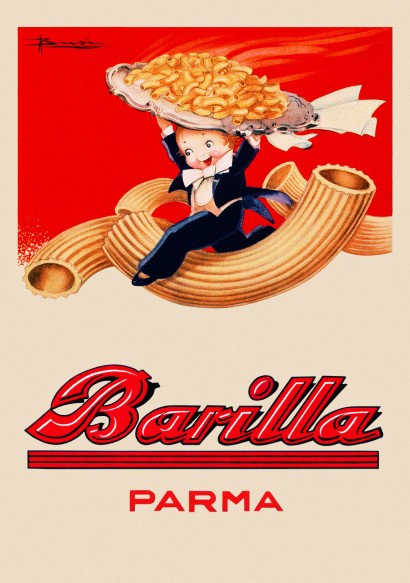 by Giancarlo Gonizzi
An archive – it is well known – is a place where you must be able to find things. Otherwise, it becomes an old attic. That is the reason why indexing photos, documents and objects to "recuperate" them rapidly when they are needed is an important part of our daily life. From its beginnings, the Barilla Historical Archives have been equipped with a state of the art informatics system to index its patrimony.
So, on a day of spring in 1992, I was filing a beautiful book dedicated to decorative art in the collections of Parma, published by Banca Emiliana in 1985 and edited by Igino Consigli. Glancing through it, the reprint of a beautiful calendar (photo 1) by Emma Bonazzi (1881-1959) jumped out of the pages. It represented Semèle, the Greek goddess of the harvest, inundating the world with Barilla Gnocchi Pasta. Extremely elegant and refined, it was printed using 11 flat colors in the Stabilimento Litografico Chappuis (Chippuis Printing Shops) of Bologna.

I closed the book and completed the form on the computer screen. I had to insert the citation of the Barilla calendar in the annotation field. But the book, wanting to play a trick on me, did not open back to that page. After trying three times, with a sense of irritation, I resorted to the index. It was merely a summary, nothing more, but next to it, I found the analytic index. When Internet was still a thing of the future to come, the analytic index of a book allowed you to navigate among the pages just like, and even better, than a search engine.
I found Barilla: but how strange! There were three different citations marked…
On page 82, I found Emma Bonazzi again, and I completed the form and saved it. A bit after, on page 86, the graphic design activities of Erberto Carboni (1899-1984) were dealt in depth. His production for Barilla is of fundamental importance and well known.
But, what about the third citation? On page 121 I found the biographic information for Adolfo Busi (1891-1978) who – I admit it – at the time I did not know yet: a poster for Barilla Pasta of 1931 was mentioned.
– Where does this come from?
Igino Consigli¹ is a famous antique dealer of Parma and a friend of Pietro Barilla. Our secretary, who is a great resource, gave me his contacts. I reached him in his gallery on Bruno Longhi Street and found him immersed in reading behind a large table in the shade. He had the book, and I showed him the quote. Busi was known for his drawings of sensual girls in the years between Liberty and Déco styles. Consigli remembered that he saw a calendar with some nice looking little angels in the house of his widow, who lived in Bologna. He did not have a way to contact her, but he had been there accompanied by Parma journalist Luca Goldoni who had lived in that city from many years. He surely knew how to contact her.
I went back to the archive. Our secretary did not have Luca Goldoni's phone number. But in those years he was the president of the Order of Journalists – and I knew it because he signed the letters that I received – so I phoned the Order. Barilla opens many doors, and they passed me Goldoni on the line directly. I explained that we were writing a book on the history of the company and that, thanks to Consigli's indications, we found a reference to Busi. He called Mrs. Liliana, who gladly accepted to see me.
She still had something she could show me at her home. While the train brought me to Bologna, I daydreamed about what I would find. But what I found was beyond any expectation: a 1931 calendar (photos 2-3-4-5-6-7-8-9-10-11-12-13-14) with 12 different illustrations. In it, there where joyful little angels with tufts of hair making all kind of mischief playing with pasta. They danced in a plate of spaghetti, rolled into ditaloni pasta, went hunting for small butterfly pasta or flew over large butterfly pasta as if these were hang gliders, and contemplated hand in hand a sky dotted with little stars in the romantic night of Saint Lawrence.
An angel waiter jumped over two macaroni while bringing a plate of rigatoni over his head: there is the poster – I realize – that I saw in some photos (photos 15-18-19) of the Historical Archives made on the occasion of the visit of traders from Genoa to the pasta factory. And the two advertising cards (photos 16–17) of the same year.
That magical and hyperkinetic world – I discovered later – was an answer to the Futurist critique against pasta, accused of being a reason why Italians were lazy. Mrs. Liliana gave permission to reprint the calendar and when in May of 1994 we set up an exhibition (photo 20) about the history of Barilla advertising for Cibus, she generously allowed us to show it. In the end, since she had two copies of it, she wanted one copy to remain at Barilla. "But – she said to us – Adolfo had also made another calendar for Barilla. But of that I do not have even one copy".
Where could we find this?
But this is another story and we will tell it another time…
---
¹Igino Consigli, Arti decorative 1895-1930, Parma, Silva per Banca Emiliana, 1985, pp. 82, 86, 121.