STABILIMENTO LITOGRAFICO CHAPPUIS – Graphic Design Industry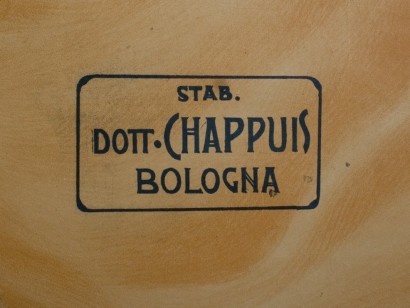 The origin of the Chappuis family is not known, whether it was Swiss or French. Having moved to Bologna, Chappuis (1874-1912) initially worked publishing editions lecture notes for college students and from 1896 was listed in the local Chamber of Commerce as the owner of a lithographic plant with premises in Via Cartolerie. He is considered to be the discoverer of Marcello Dudovich, who had already begun to work for Ricordi in Milan, but found a perfect feeling of collaboration with Chappuis, producing some of the best known posters of the time (Acqua Felsina Bertolotti, Terme di Porretta, Cioccolata Majani, Gazzetta dell'Emilia). The company then became a pole of attraction for the most important poster designers of the day – from Hoenstein to Mataloni, to Chini, Terzi, De Carolis and Ballerio – and Bologna represented a research territory for new graphic and figurative expressions. "Chappuis was clever and Bologna was beautiful and hedonistic" recalled the artist from Trieste. When Edmondo Chappuis died in 1912, his brothers – in particular Alberto who distinguished himself – continued the business in with lesser success under the name of Società Anonima Chappuis (Chappuis Anonymous Society) until 1927. For Barilla, Chappuis printed the 1922 and 1923 calendars designed by Erberto Carboni and Emma Bonazzi showing particular care and skill in the chromatic aspect.
Maurizia Bonatti Bacchini
Bibliography
GOTTARELLI E., "Edmondo Chappuis e la diffusione del Liberty a Bologna"(Edmondo Chappuis and the diffusion of Liberty Style in Emilia Romagna), in Strenna Storica Bolognese, 1973.
STORELLI Antonio, "Sviluppo della grafica e aspetti delle arti applicate in Emilia Romagna" (Development of graphic and of aspects of applied art in Emilia Romagna), in Il Liberty a Bologna e nell'Emilia Romagna (Liberty Style in Bologna and Emilia Romagna), Bologna, Grafis, 1977, pp. 99-102.
ROVERSI Giancarlo, La tromba della fama – Storia della pubblicità a Bologna (The trumpet of Fame – History of Advertisement in Bologna). Bologna, Grafis 1987.
CONSIGLI Igino (edited by), Arti decorative 1895-1930 (Decorative Arts 1895-1930). Parma, Banca Emiliana, 1985, p. 82
Catalogo Bolaffi del Manifesto Italiano, Dizionario degli illustratori (Bolaffi Catalog of Italian billboard poster illustration, Dictionary of illustrators). Turin, Bolaffi, 1995, p. 57.
On Alberto Chappuis (Florence, 1884-Bologna, 1945), see the entry in: VERIGNANA Franca (edited by), Le collezioni d'arte della Cassa di Risparmio in Bologna. I disegni. III Dal paesaggio romantico alla veduta urbana (The art collection of the Cassa di Risparmio of Bologna, The drawing, III From landscapes to urban views). Bologna, Cassa di Risparmio, 1975, p. 433.