Paul Bianchi: Between Craftmanship and Myth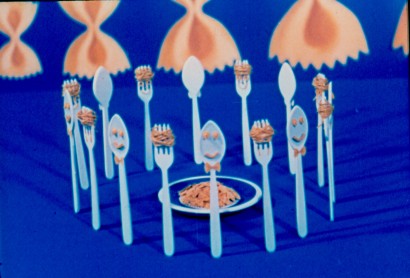 by Emmanuel Grossi
Paul Bianchi (1902-1958) is very likely the personality in the field of Italian (and not only) advertising who most resembles a mythological figure. His scarce biography is cloaked in the fog of mystery and oblivion: it is believed that he was born French, of Russian origins, and that he lived the last part of his short life in Milan, even though he died in Rome when only a few years into his fifties. It seems that some of his futuristic machines are still conserved in a museum in Milan. Yes, because it is said that he built everything by himself in his workshop of dreams that produced splendid color advertising films (for cinemas) in the Fifties, that were extremely rich in inventive and technically daring. He was among the most important creators of stop motion, or frame by frame films in the world. This technique is based on a very simple principle: by impressing the film one frame at a time while slightly modifying between each shot the position of objects or puppets who are the characters, the effect of motion is achieved when the film is run in flatbed editor or in the projection room. The idea is the same as in cartoons, but in order to film one second of a movie instead of drawing 24 tables you need to shoot 24 "photographs".
Paul's relationship with the industry goes back to the pre-War period as well: his wonderful and articulate rendition of the tale of The Cicada and the Ant (about four minutes in lenght!) with an advertisment ending for Ferrochina Bisleri is even dated 1940, and was made for projection in cinemas but still in black and white.
He worked twice for Barilla, towards the end of his career: in 1956 (even before the birth of Carosello) he created The Wings of Our Skies (also known as Intermezzo -interlude) and in 1958 The Egg and Us, probably his last work before his death. These feature two different subjects and relative processing: the first was made to advertise Durum wheat pasta and has a clearly stated graphic imprint, so much that the initial part could be mistaken for a cartoon film: the second commercial, for egg pasta, is a tridimentional stop motion where the eggs appear as suspended in mid air before breaking into a flour fountain, thanks to a complicated game of cables and mirrors. There is no spoken comment: as usual, everything dances to the rhytm of music (in some more abstract instances Paul Bianchi created "Sincromofonia", sound syncronicity). We are sure that Rossini, who was a gastronomer, would have gladly accompanied the dishes of pastasciutta with his overtures to The Barber of Seville and The Magpie.
The wings of our skies