Federico Fellini: Interlude for Solo Rigatoni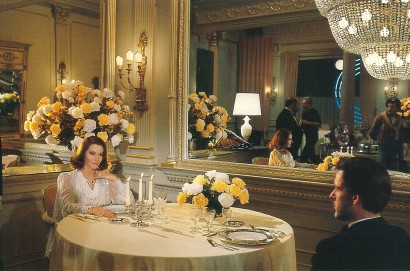 by Emmanuel Grossi
Barilla and Federico Fellini (1920-1993) courted each other for twenty years: from the times of The Journey of G. Mastorna and of the Carosello commercials with Mina that were filmed for a sublime act of mischief by his former set designer and trusted costume designer Piero Gherardi (1909-1971), winner of two Oscar Awards. In 1985 times were finally mature.
The Company was living a phase of transition: the collaboration with the TBWA agency was over (besides authoring the recent Al Dente campaign for Barilla pasta, they collaborated for about ten years with Voiello and took care of the total restyling of the logo, packaging and the advertising campaign for relaunching the brand), and a large tender procedure was opened among the most important agencies of those times. Young & Rubicam came out triumphant with the "Where there's Barilla there's home" campaign.
Fellini came to sumptuously occupy the interregnum, as he debuted in advertising with Campari, and started a direct dialogue with Pietro Barilla proposing to him eleven scripts, more or less dreamlike and visionary. High Society was selected.
On the eve of shooting in Cinecittà, only one doubt remained: Federico wanted to change the age of one of the protagonists (in the original script they both were middle aged). Fabrizio Capucci, who had produced almost all of the Barilla shorts from the beginning of the decade with his society CBN, recalls that the temptation was to shoot both versions and then to let the client choose. But the old leonine temper prevailed in Federico: he would make that decision. He opted for the most intriguing solution: at the table of that elegant restaurant that could have been raising up from the fog of a remote past were it not for the neon sign that filtered in from the glass windows, there would sit a young man and a more mature woman. The choice fell on Greta Vaillant (1942 – 2000), who at the time of black and white television had been supporting actress of her friend Solvi Stubing (1941 – 2017) in the Peroni commercials for Carosello and had been chief character  for Nastro Azzurro by herself. It would be her, beautiful and seducing, to enchant us with her "Rigatoni!" full of double innuendo.
Photos from the backstage of Rigatoni!