Mina, Gherardi and the Factory of Dreams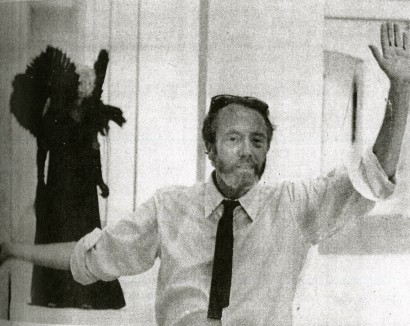 by Emmanuel Grossi
Piero Gherardi, who was the most whimsical and dreamlike of set and costume designers of Italian cinema, had been working with Federico Fellini for about ten years: together they shot many movies, from The Nights of Cabiria to La Dolce Vita and 8 ½, both Oscar winners for the costumes and nominated for the set designing. Their latest collaboration had been Juliet of the Spirits (that had two more nominations from the Academy), but they ended up fighting – both had strong and easily inflammable personalities – and they cut their relationship short.
Right at that point, Barilla started courting Fellini for the Carosello shorts with Mina while Fellini was courting her for The Journey of G. Mastorna. Both their approaches remained unanswered. Though, the world of cinema and Cinecittà in particular, has always been like a grapevine and the corridor voices ran into the ears of Gherardi, who made himself available to direct the commercials, while proposing to use the same locations he had personally studied up for Mastorna, that were one more unique than the other, so to "burn" them.
This was the first and only experience behind the filming camera for Gherardi, supported by the cinematographer Dario Di Palma. However, what makes that Carosello shorts unmatched is certainly not the director's solutions. Three powerful elements created the magic of the alchemy: the locations, the outfits, and Mina, with her beauty and her songs (all hits, from Mi sei scoppiato dentro il cuore to Ta-ra-ta-ta, or the Sanremo hit song Una casa in cima al mondo and the television show theme songs Mai così and Se telefonando).
The evocative strength of outfits and locations was indeed that these very simple elements, even a bit poor, were reinterpreted and charged with creativity. There were no brocade fabrics, no haute couture, no fantastic royal palaces, no exotic places or marvels of nature: for the most, it was industrial architecture (geometrical roofs with perspective effects, building construction sites) or in any case contemporary architecture, mirror effects, beaches at sunset, grazing horses and balloons. Gherardi preferred to work directly with fabric rather that working from study drawings, and together with Gabriele Mayer (who later became tailoring director) outfitted Mina mainly in basic black dresses, or grey at the most, and added each time unusual accessories: wheels or layers of haircloth, padded ringlets, pheasant feathers, embroidered lace flowers… Or he prepared dresses with an unusual cut line, but altogether linear: an ample double cape with round holes, a tubular woven tunic pleated like a Chinese lantern, a single shoulder white top that raised to resemble a calla flower…
Between September 8th and October 28th of 1966 and again from January 1st to February 20th of 1967, these pearls of Italian cinema brightened up the television screens. Though, at that time, stuck between a Moplen*, an Oro Pilla* and a Linetti hair grease commercial, the importance of these shorts was not fully understood. We appreciate them more now, over half a century later, while dreaming and regretting that Golden Age of advertising and entertainment.
Moplen* – the brand name for isotactic polypropylene products by the Montecatini-Edison company.
Oro Pilla* – a brand of brandy liquor.