ALFREDO CAVADINI – Designer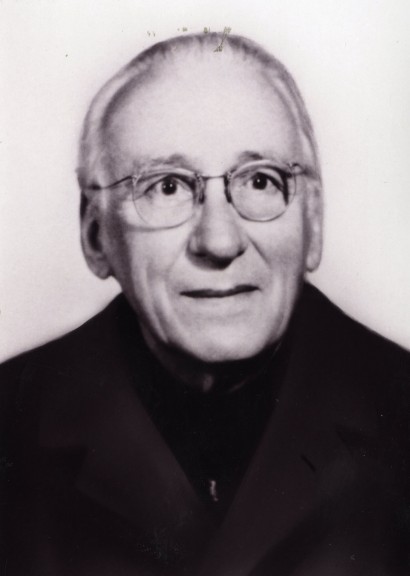 (Verona, 1905 – Beregazzo, Como, 1995)
Alfredo Cavadini was born in Verona on August 27, 1905. After graduating with a diploma from the Professional Institute of geometric and mechanical drawing of Verona, he attended the Albertina Academy of Turin, following his artistic inclinations. When he returned to Verona, he became an assistant set designer for the productions of the opera seasons of the Arena. He was a reserved character who had his own personal style. He was inspired by Cappiello's artistic style that presented elements of graphic which were very close to the sensibility of the second wave of Futurist artists. From 1922 to 1926 he worked at the Mondadori factory in Verona, where he learned the technique of lithographic engraving, met Gabriele D'Annunzio and took part in the production of the plates for the Complete Works of the Vate (note: Vate = The Bard – this was an attribute given to D'Annunzio in recognition for being the foremost Italian poet of his times). In 1927 he moved to Genoa, where he remained until 1930 and worked at the Barabino & Graeve graphics company and took an active part in the Second Wave of Futurism, and co-signed its manifesto. He met and frequented the company of Marinetti, Martini, Casorati and Sironi, with whom he exhibited in 1927 at the Exhibition of Futurist Art in Genoa. In1930 he was called to Turin by Mario Gros and until 1933 he worked at the Gros-Monti graphics studio where he created some of his best works for Fiat, Gancia and Olivetti and where he met Luciano Bonacini. He moved to Milan and from 1933 to 1935 he worked at Pizzi & Pizio, who then began the Industrie Grafiche Amilcare Pizzi where he illustrated the 1936 Calendar for Barilla, with drawings on the theme of Italian regional dances. He then opened his own graphics studio, which collaborated with Persil, Locatelli, Radio Marelli, Philips and Frank. He began a close collaboration with Cesare Ricciardi, the owner of the well-known advertising agency of the same name, and created important works for the De Angeli – Frua company, which specialized in hand-printed fabrics and in 1937 produced the graphics for the Signor Bonaventura Contest – in which Barilla also took part – based on the well-known character created by Sergio Tofano – actor, set designer and illustrator (Rome, 1886-1973) professionally known as STO – and elaborating posters, fliers and advertisement announcements for the daily press, albums for the collection and envelopes for the picture-cards. In the war years he returned to Turin and worked for the EIAR (now RAI) and for the Gazzetta del Popolo (Gazette of the People). In 1946 he resumed his professional activity in Milan, and appeared among the founding partners of the AIAP, Associazione Italiana Artisti Pubblicitari (the Italian association of advertising artists), and in 1950 opened the Varo studio (Organizzazione Razionale Aumento Vendite) (Rational Organisation for the Increase of Sales), which was particularly active in the fashion sector (Fila, Sanremo) and food sector (Orzo Bimbo, Zonin). In 1977 he retired and moved to Beregazzo, in the province of Como, where he died peacefully on August 31, 1995, leaving his very rich archive to his son Achille.
Giancarlo Gonizzi
Bibliography
PRIARONE Giuseppe, entry on Adolfo Busi in, Grafica Pubblicitaria in Italia negli anni Trenta (Advertising graphic in Italy in the 1930s), Florence, Cantini, 1989, p. 20.
Catalogo Bolaffi del Manifesto Italiano, Dizionario degli illustratori illustratori (Bolaffi Catalog of Italian Billboard Posters, Dictionary of illustrators). Turin, Bolaffi, 1995, p. 53.
"Alfredo Cavadini, founding member of the AIAP", in Notizie AIAP, no. 3, October 1995, pp. 32-33.
SOLERI Elvio (edited by), I muri raccontano. Cento anni di manifesti stampati dalla Pozzo Gros Monti (The walls tell a story. One hundred years of billboard advertising posters printed by Pozzo Gros Monti). Turin, Pozzo, 1991, pp. 79, 97.
Special thanks to Achille Cavadini for his invaluable collaboration.