PIZZI E PIZIO (later AMILCARE PIZZI S.p.A.) – Graphic Design Company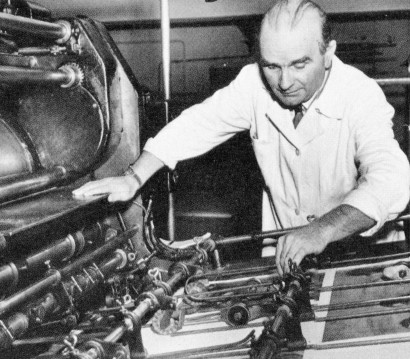 Amilcare Pizzi (Milan, 1891 – Guello [CO], 1974) obtained a diploma from the Scuola del Libro at the Umanitaria school of Milan and worked as head of department at the Rizzoli & Pizio workshop, specializing in color reproductions; he bought his first printing machine in 1914. In 1919 Pietro Pizio left Rizzoli to set up a new partnership with Pizzi; thus the Pizzi & Pizio company was founded, with its curious phonetic alliteration, which dealt mainly with printing posters, receiving job orders from, among others, the Bestetti & Tumminelli company, a prestigious publisher of art publications in the1930s (1).
In 1933 in addition to the Milan printing shop, a new one in Rome was opened, whose principal client was the newly born Cinecittà Studios for the printing of film posters was. At the end of the World War II Amilcare Pizzi began his publishing activity in the field of art books, with a series called Silvana, which in the 1950s became Silvana Editoriale d'Arte (2).
Pietro Barilla was on collaborative terms with Pizzi & Pizio from 1936, on the occasion of the Italia Bella collectible figurine contest. Subsequently the Pizzi presses produced the posters and albums for the 'Bonaventura Contest', the extremely modern photographic cover of the 1938 catalog, the 1939 calendar designed by Erberto Carboni and later, in the 1950s, Carboni's posters La pasta del buon appetito (The good appetite pasta) and Gallina con cinque uova (Hen with five eggs) (3). Worthy of mention was the photographic service shot with a clear intent to advertise that shows us places, working process, and products of 1938 made in a modern graphic style (4).
After the company ceased its activity, Amilcare Pizzi continued his publishing activity with that rigorous style and high level of quality that still characterizes his new company, managed, after the death of Amilcare in 1974, by his nephew Rodolfo and his son Massimo. The collaboration between Barilla and Pizzi continues to the present day with the publication of numerous books of artistic and historical character.
Giancarlo Gonizzi
1 VISINTIN Luciano, C'era una volta una bottega (once upon a time there was a little workshop). Milan, Cavalletti, 1987, pp. 91-99.
2 FUSCO Giancarlo, "I generali della gavetta: Amilcare Pizzi" (the generals of boot camp training: Amilcare Pizzi), in Il giorno, 11 November 1956, p. 9.
3 CARBONI Erberto, La pasta del buon appetito (the good appetite pasta). Milan, Pizzi, 1952, Rc 1952/1; Vera pasta all'uovo. Milan, Pizzi, 1953, Rc 1953/1.
4 PIZZI E PIZIO, Photographic feature for the 1938 Barilla Catalog. ASB, Aa 150-166.