Elda Lanza, or of grace and elegance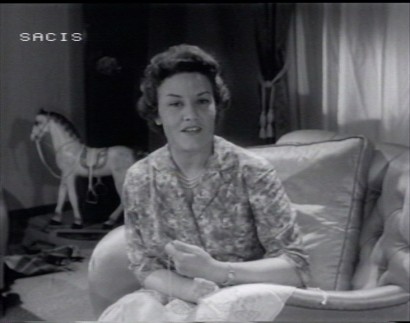 by Emmanuel Grossi
In the beginning were television announcers. It was Fulvia Colombo to inaugurate regular television programming on January 3, 1954. She was the first "signorina buonasera"* of Italian history who ideally received the baton that was passed to her by the dean of radio announcers, Maria Luisa Boncompagni, at the time still fully active. Among the other gentle presences of the beginnings of Television, we recall Marisa Borroni from the Production Center of Milan, Maria Teresa Ruta (the aunt of a television hostess by the same name) from Turin, and the legendary Nicoletta Orsomando from Rome. But a new figure was about to appear on the horizon. In the midst of an army of men, among speakers co-opted from the radio and actors borrowed from cinema and theater, already headed by Mike Bongiorno (his show Arrivi e partenze* was the absolute first to air at the end of the inauguration of studios and relays), Elda Lanza, the first female program presenter, cut a small space for herself.
With her grace, competence and her journalistic style she remained for a long time on the small screen (to which she returned in recent years with unchanged energy, leaving from time to time her activity as a thriller novel writer that has nowadays become her main occupation). Though, she was always relegated to afternoon programs "for ladies" or to Children's Television, from her first program Vetrine* to Avventure in libreria* and the doors to the large audience evening shows never opened to her.
Faithful to her role as an educator and scientific communicator, she gave practical lessons on pedagogy and on raising children in Il bambino, questo sconosciuto*, one of the first series of Carosello commercials for Pavesini (at the time  these were still presented as products for children), that aired from the summer of 1957 to the spring of '58. Thus, we see her explaining what type of nutrition is to be preferred by pregnant women, how to educate children so that they learn from a young age to sit properly at the table or to become responsible… Elda personally recalls to have been the first RAI character engaged by an advertising firm (together with the usual Mike*), taking the directors almost by surprise. From that time on they strongly limited the presence of employees and habitual collaborators of  State Television in commercial contexts.
But business advertising and communication were written in Elda's destiny: through the years she would return to work in the field of fashion as a writer and most of all to take care of public relations. Even before the era of Carosello commercials she was married to an advertising professional, Vitaliano Damioli, who was active with his own studio and later was co-founder, together with Alberto Gandin and Vittorio Orsini (brother of Umberto, the actor), of ODG, one of the most famous entirely Italian agencies of the Sixties, Seventies and Eighties.
signorina buonasera = "good evening maiden", an idiomatic expression to indicate a female television announcer
Vetrine = Shop Windows
Avventure in Libreria = Adventures at the Bookstore
Il bambino, questo sconosciuto = Children, this unknown subject
the usual Mike = Mike Bongiorno