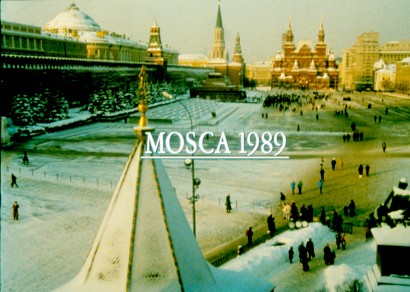 by Emmanuel Grossi
The fall of the Berlin Wall is one of the main reasons why 1989 will always be remembered. However, as we know, that appointment with history was only the peak of a long process that caused the disintegration of the USSR and the end of the Cold War. Before then, openings towards the West by Communist Countries were very sparse; nonetheless, some of them also occurred in the frivolous and consumerist context of advertising.
The first known case to be widely documented dates back to 1981, when a crew from Studio K of  Florence was allowed to shoot a series of commercials in China. In these Isabella Rossellini, after showing Tiananmen Square and other views of Beijing, climbed up to the highlands where  rhubarb was being extracted and processed to be later imported to Italy by the Zucca company.
In 1989, a few months before the fateful date of November 9, it was instead the turn of Moscow, where the shooting cameras of Film Master arrived on behalf of Barilla.
It was one of the most famous Soviet directors, Nikita Michalkov, to shoot in the Red Square covered with snow; he expressly requested to have Franco Di Giacomo as cinematographer, who had already been by his side two years earlier while working on the film Oci ciornie (Dark eyes) (starring Marcello Mastroianni) and later in an industrial movie for FIAT, The hitchhiking (Russian Elegy). Indeed, Franco's advertising career took off thanks to this Barilla commercial, despite of his shy character and his age by then mature.
But the real protagonists of the campaign created by Gavino Sanna were not the spires of Kremlin, the horse-carried sledge, the exceptional location or the long duration, but the jingle, the famous Hymne by Vangelis that had long since already become a synonym of "Where there's Barilla, there's home" throughout Italy. The advertising commercial was aimed at showing how this syllogism exists also outside the national borders and travels in parallel with the identification of  Italian pasta with the Barilla brand.
As a well tested and tried practice, music production was managed by the Milan based Jinglebell company of Carlo Forester and Flavio Premoli (who was a founding member and pillar of the legendary Premiata Forneria Marconi band), who entrusted this work to their friend and habitual collaborator Lucio "Violin" Fabbri (former member of the PFM – Premiata Forneria Marconi – band as well). Fabbri revealed a  curious but emblematic (and maybe even excessive) care for details on which the advertising of the times was based: the commercial began with the tolling of a bell… and the sampled sounds of the real Kremlin bell were used.
Photos from the backstage of Moscow 1989