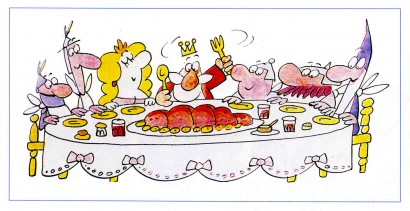 by Emmanuel Grossi
Ario Albertarelli is a musician of great competence and versatility: he has been capable to span across the range from classical music to music education, from the songs of the Owls (pioneers of cabaret for which he wrote many songs, especially pairing with Roberto Brivio), to advertising – primarily for Pavesi, as he himself tells us.
The relationship with the client began in 1960, with the color film "It is always time for Pavesini" by the Pagot brothers, and it continued with illustrator and director Marco Biassoni, with whom he established a long and fruitful collaboration (strengthened by friendship as well).
"I met him at Adriatica Film thanks to Guido Rosada, a director with whom I had already worked. We immediately got along well. In those early days, when we had a commercial to make, we would create the subject together: he was very happy to have someone with whom to confront his ideas, because perhaps I would give him suggestions that he then would develop… He possessed great creativity, great imagination and a lot of spirit.
In 1965 we worked on a short for crackers. There was always something missing on the table set: the music started, came to a point and  then stopped suddenly; at the end the Gran Pavesi appeared and a very rustic music began, a classical style composition of mine made with just four instruments, but that however sounded really good… Alberta Lovric, Giorgio Strehler's mother, came to play the violin.
In the closing segment of the Carosello shorts for crackers (before those of the King Arthur series) a harp can be heard: it was played by the sister of Jazz artist Paolo Tomelleri (theirs is a family of musicians!)."
That is King Arthur and the Knights of the Round Table, a masterpiece by Biassoni and Albertarelli:
"The first voice of King Arthur was by Gianni Magni, the mime of the Owls … later on, Roberto Brivio played the role, who also other minor roles. Some of the voices as I recall were by Carlo Bonomi, the famous voice actor of the Cavandoli Line. He also worked on the series, helping with the animations (Biassoni and Cavandoli always worked in very friendly agreement). Other voices were played by Rosario Bruzzese, a women's hairdresser who lived in my area. One evening, there was an open microphone show ('The microphone is yours') at the local parish church and he won a prize as an imitator. He was a very talented young boy, I wrote a few subjects for him that were parodies of songwriters' pieces: he took part in the Bertoldo d'Oro competition in Lecco … and he won there as well. "
The endings of the commercials were full of surprises too. For example, the jingle that accompanied the slices of bread that turn into crackers (a very complicated work of truka camera at the time, made possible by a genius of the sector such as Memmo La Rocca)…
"It was one of my compositions originally for orchestra. And it was even performed on the harpsichord by Bruno Canino, an internationally renowned pianist! He was a friend, we went to school together ".
However, as we will discover, Albertarelli's relationship with Pavesi was not limited to the cracker shorts for Carosello: over time he was also involved in many cookie advertisements…