Mulino Bianco communication awards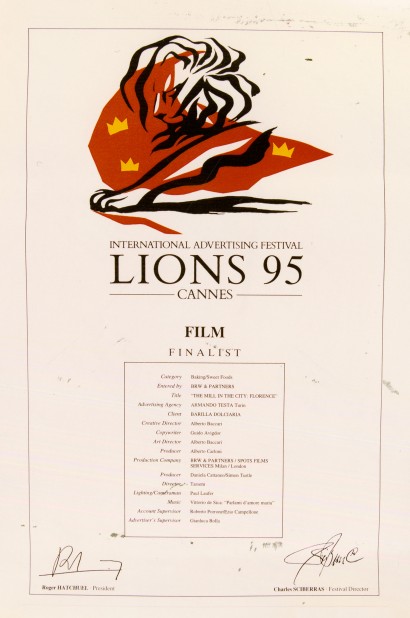 by Roberto Pagliari 
The Mulino Bianco brand, launched in 1975 for bakery products, has in turn obtained various awards, from the Target Parade for the Rusks Bread campaign in 1987, to the Italian Grand Prix of Advertising Award for the best marketing strategies in 1990, the Cannes International Advertising Festival Award for the "Mill in the City" campaign in 1995, the Moebius Awards (USA) for GranCereale advertising communication in 2000. In 2005 Mulino Bianco also obtained the Key Awards Diploma with the campaign "So is life".
It should also be remembered that various awards were assigned to individual products for the effective advertising campaigns dedicated to them. In particular, in 1994 Mulino Bianco was awarded the Trophy with Key Awards Diploma for the "Tarallucci-Rome" commercial, on the occasion of the XIII edition of the Key Awards. The award consists of a triangular golden sculpture with the apex facing down and a marble pedestal.
In 2000, on the occasion of the XXV edition, the same award was given to Mulino Bianco for the Tenerezze product and the commercial "The Sorcerer's Apprentice".
The same recognition was also given to the commercial "Pinocchio" (Rigoli biscuits) in 2003, and Girotondi ( "In the Mill that I wish" campaign) in 2009.
In the field of its activities, Mulino Bianco received the 1993 Mario Bellavista Gold Plate for Advertising Communication, and the related parchment paper diploma decorated with a frame of green, red, blue and gold branches. The diploma was awarded to Barilla Dolciaria in the Promotion sector for the Mulino Bianco Snack Heating Little Oven campaign produced by the Armando Testa Agency of Turin. In 1998 the Flauti were created, at first called Jogoroll, fresh snacks with yogurt and fruit then also available with milk cream and chocolate cream; they won the Silver Tray award as best confectionery product of the year for packaging.