Awards for the advertising campaigns of the Eighties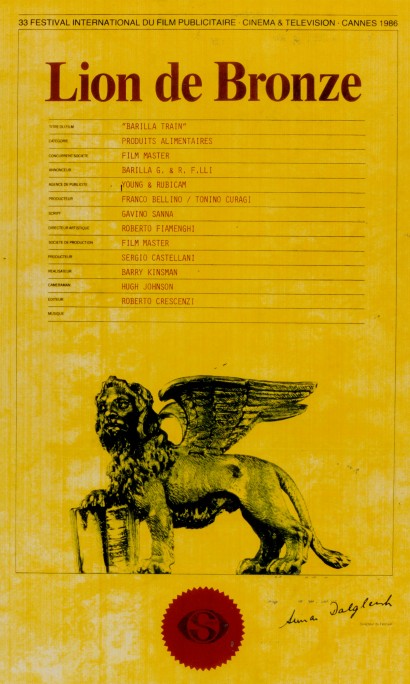 by Roberto Pagliari 
But perhaps more than talking about awards, it is better to focus on the advertising campaigns of the Barilla Group that received the largest number of recognitions both nationally and internationally, narrating the elements that made them unforgettable in the realm of collective imagination.
After the extraordinary partnership with singer Mina (from 1965 to 1970) and after the American period, Pietro Barilla, a staunch supporter of the relaunch of pasta, after the "Al dente" campaigns of the early Eighties, called his friend director Federico Fellini (1920 -1993) and commissioned him a commercial entitled "High Society", with music by Nino Rota (1911-1979). This was followed by a campaign by the Young & Rubicam agency based on the sentiment of homecoming with the slogan "Where there is Barilla, there is home" which had its the characterizing theme in the soundtrack "Hymn" by the Greek composer Vangelis. 
An unprecedented advertising discourse, the one proposed by Gavino Sanna with the long commercial "Train" filled with silences, subtle ambivalences, mysterious atmospheres, in which music becomes a determining element of a change from being a complementary accessory used to give atmosphere to the presentation, to being a constitutive element of a proposal that gives continuity to the message as a reassuring identification tool. The unmistakable soundtrack accompanied numerous other commercials that entered into the Italian collective imagination: the "Kitten", the "Cadets", "Rome", "Fusillo", "Moscow" directed by Russian director Nikita Michalkov, "Adoption". These are films that, between 1986 and 1990, collected a large number of awards: ANIPA Italian Advertising Film Festival, Cannes International Advertising Film Festival, Grand Prix of International TV, Italian Advertising Grand Prix, Clio Awards Spot Italy, Media Key Awards. In 2005 the advertisement commercials "Farmer" and "City of Women" (with singer Laura Pausini as testimonial) obtained the Key Award Diploma.