ADOLFO BUSI – Illustrator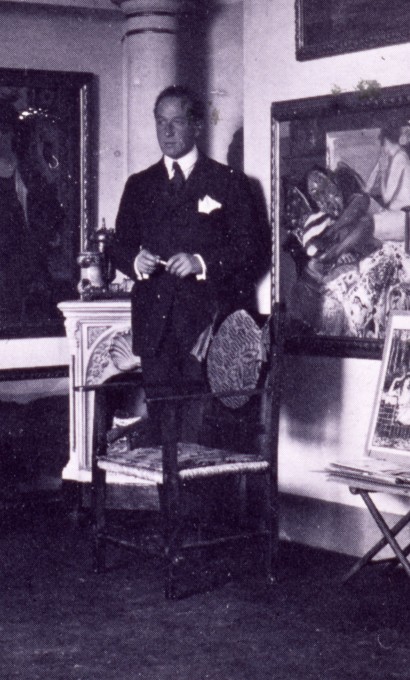 (Faenza, 1891 – Bologna, 1977)
After receiving a diploma from the Academy of Fine Arts in Bologna, Adolfo Busi devoted his attention to painting, in particular to portraits, and made his debut at the Roman Secession exhibition of 1914. In around 1920 he began to work in the field of graphic illustration for advertising and started collaboration with the Officine Grafiche Ricordi (Ricordi Graphic Studio). He was responsible for the Ricordi section at the first Advertising Poster Exhibit, which was held in Milan in 1938. He drew sketches for Borsari and Lepit, including the billboard posters for the VI National Contest for the Victory of Wheat (1928), for the Tripoli Lottery (1936-38), for the 1931 Tripoli Fair and hundreds of postcards with genre subjects marked by an unmistakable ironic and amiable trait. From 1932 he illustrated the weekly publication La Moda della Lana (wool fashion) published by the Rossi Wool Factory, and was also responsible for all the advertising campaigns launched by the company in the 1930s. For Barilla he designed the 1925 calendar published by Chappuis in Bologna, with drawings of children sowing, reaping wheat, making dough and cooking pasta, and the 1931 calendar published by Ricordi, from which were made also a poster, a postcard on the theme of the Baby waiter astride a macaroni that illustrated the month of February and another postcard with the Dance of the spaghetti from the month of December.
Maurizia Bonatti Bacchini
Bibliography
SOLMI Franco, Adolfo Busi 1891-1977. Bologna, Edizioni Il Nuovo Laboratorio, 1984.
CONSIGLI Igino (edited by), Arti Decorative (Decorative Arts) 1895-1930. Parma, Banca Emiliana, 1985.
PRIARONE Giuseppe, entry on Adolfo Busi, in Grafica Pubblicitaria in Italia negli anni Trenta (Advertising graphic art in Italy in the 1930s), Florence, Cantini, 1989, pp. 18-19.
Catalogo Bolaffi del Manifesto Italiano, Dizionario degli illustratori (Bolaffi Catalog of Italian Billboard Posters, Dictionary of illustrators), Turin, Bolaffi, 1995, pp. 35-36.