1934 – The "Universal Pasta"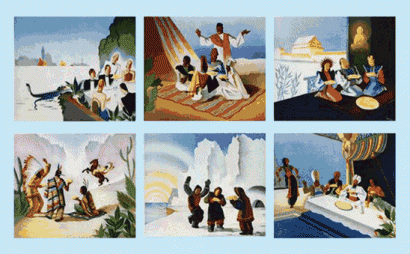 The internationalization process for Barilla can boast ancient roots, even though it is a relatively recent phenomenon.
The first Barilla letterhead in 1909 represented the "world" encircled in the word "export". Though, it is in the calendar that Luciano Bonacini was called to design for Barilla in 1934, that this theme was more greatly development through six vignettes that were stylistically influenced by the Futurist movement on one hand, and by the effective graphic lesson of Leonetto Cappiello on the other hand.
The calendar, which remained unknown up to our day, was recently acquired by the Historical Archives and proposed the theme of Barilla pasta being consumed by the most remote populations on Earth: from Eskimos to the Chinese, from Native Americans to the Bedouin tribes of the desert, up to the most traditional and refined hotels on the Lido of Venice.
However, these are exotic images aimed at the Italian public and calibrated on the collective imaginary that was recurrent at the time.
His work was evidently appreciated, and once more Luciano Bonacini was called to design the Barilla calendar of 1935, which focused on the various moments in which to eat pasta, and was also printed with high quality standards by the Gros-Monti Graphic Industries of Turin,
In synthesis, these are valuable documents, even in their naive character, representing an idea that comes from afar: that of pasta as a universal food.