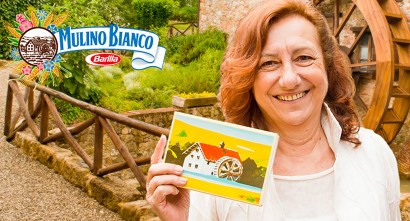 by Graziella Carbone
I remember 1978, it seems as it was yesterday. I think back with emotion to the first promotional campaign of Mulino Bianco (white mill): a breakfast bowl, inspired to the peasant world and to the old milk and coffee cups that was given the name Coccio (earthenware). Its color and decorative motifs were in the style of handmade terracotta. Families could obtain it only by cutting out the point coupons printed on the boxes of biscuits and pasting them on collecting cards. The children themselves felt involved in these operations. Who knows how many of them played this game! They would collect the point coupons all together to reach the goal of getting the prize sooner.
I believe it can be said that this mythical promotion became a cult to all of us. 

Why not thinking of pleasing the children as well? On the front of promotions, 1982 was marked by an important novelty: a long series of Mulino Bianco Surprises, those small objects in little boxes that would thrill many mini-consumers throughout Italy, came to be alongside with the gifts for the family.
The "mother" of these Surprises, the person who thought of them and followed their evolution step by step, is Graziella Carboni, an expert of promotions and games for children…
In our Country, the first sales promotion agencies were born at the end of the 1960s: these were structured to offer their clients entrepreneurs a complete service while trying to gain their ground in a market that was still handled in an autarkic manner by firms, or else entrusted to general advertising agencies.  Only from 1979 on, when ASP (the Italian Association of Sales Promotion Agencies) gathering the main agencies in the sector operating in Italy was formed in Milan, the market of promotions reached its full development, both in the sense on quantity and quality. The sector became a professional field, shifting from a tactical or "emergency" use of promotion, to a strategic use.
Thus, the promotional gadget became invested with a strong communicative value: it contributed to create or to reinforce the image of a brand, to identify a product, to influence the consumer towards fidelity. Be it little or large.
Promotions in one's DNA
I began to deal with promotions in 1978 – Graziella Carboni recalls – when I became the sole administrator of a company of my own, CIN. Before then, I was the Director of the Office of Advertising and Merchandising for a company that made high quality domestic appliances. My family was already involved in promotions: my aunt and uncle, when I was a child, worked for Perugina: they painted the chocolate boxes by hand and made the ruffles, the papers… I spent years "goofing around" in their laboratory in Milan where my grandmother used to bring me – I was born in Bergamo – as I was attracted by that world. My other aunt and uncle, instead, worked for La Rinascente and created all the small gadgets that were placed into doll kitchens and fridges that were made of plastic, and once were made of painted plaster. Moreover, my mother founded and managed an atelier of doll clothes for a long time, and my sister, still today, creates shop window decorations for the Christmas season. In short, I absorbed their creativity, their culture of games and toys.
When people ask me about my curriculum vitae, I usually answer that the only truly useful experience in my life has been nursery school! There, I received a schooling connected to manual skills and enjoyment that was useful to me through my entire life. This, not to speak of the incredible quantity of courses I attended and still attend: from ceramics to origami, from embroidery to creative cooking. Moreover, I also often play with children, and I go visit elementary schools, because they give me precious inspiration for my inventions: so I can understand what they really enjoy.
My work is an exciting thing: in it, you never have a break, and it absorbs your energies completely, throughout every moment of the day. Many games are born from a mental association, for which reason I must be constantly focused: it is not a coincidence that I go around with a notebook in my pocket to take notes, and I also keep one on my nightstand, because I often have nights flashes, oneiric intuitions.
The dawn of promotions
My adventure in the world of commercial promotions Barilla began in the 1980s. At the time, little was known about commercial promotions, except that the objects had to possess specific characteristics. We went to the companies, held a presentation of our work and then collected a company briefing that contained target, budget, quantity and characteristics of the operation, if the promotion was in pack or on pack, for example. At that point, we had meetings in which we decided to develop a sector rather than another. We prepared sketch drawings of the object that was individuated or designed, and with these elements, we started to make price estimates. At times, these were objects that could already be found in commerce, but very often, they did not exist yet and were to be invented and built. Once the costs indicated by the manufacturer were obtained, we went back to our clients who chose whether to have the object created and sent into production. Then, we designed it in detail, studied its technical feasibility, and followed up its production, selecting a supplier and packager.
The boxed surprises for Mulino Bianco
I had been already collaborating at Barilla since 1981. For the Company, I designed a recipe book on the topic of pasta and a large promotional operation in collaboration with the Forestry Corps of Tuscany, sending to all the bakers in Italy – at the time there were 17 thousand of them! – a real Christmas tree, of small dimensions and decorated with all of their lights. In 1982, the need arose to find suppliers for the in pack promotion called "Little Surprises for game playing", connected to the Mulino Bianco brand, that was to be launched that same year. The idea to have a small box similar to those used for wooden matches and to fill them with Little Surprise came from an advertising agency in Piazza Castello in Milan, Progress Consultant. In turn, this had been "dressed up" and designed by the advertising agency that followed Mulino Bianco campaigns back then: the Troost, Campbell, Ewald firm.
We were in the early Eighties and the hobs in the Italian kitchens did not have automatic gas ignition yet. The same applied to ovens. Therefore, to make breakfast, lunch and supper and perhaps an exquisite cake for a snack it was indispensable to have… a box of wooden matches handy.
Thus, the box of matches represented a symbolic object that was always a protagonist in various moments when the whole family reunited and shared the pleasure of being together.
Moreover, in Italy and abroad, especially in England and Sweden (the homeland of the matchboxes of which we speak that were called "Swedish matches"), collectors had begun already to gather small boxes with advertising images printed on the front.
For these reasons, Mulino Bianco chose this item as a container for Little Surprises, with the intent of representing an object that was of familiar use and in the hope that these boxes, with time, would become collector items.
The boxes were printed by a single company located near Reggio Emilia that delivered them to the packers.
They produced them at high speed (about 10.000 pieces per hour), both for a question of volumes in terms of delivery schedules and of costs.
Therefore, my company received a specific request: the surprises needed to be absolutely in line with the strategy of Mulino Bianco, palatable for children, inspire by nature, able to suggest the pleasure of spending time together, and needed to be personalized and to come in the largest possible variety. Moreover, a characteristic for which I always fought, they must be objects that children could be able to take with them to school or to the courtyard to play together with friends or to exchange them with some other gadget of the series. This aspect stimulated the factor of collectability of the objects… For this reasons, three years later in 1985 we also designed the Maxi-Sorpresiere (a large size surprise holder) to make it possible for children to store the various Little Surprises in a single container.
For the children who were most engaged in this collection, gathering the Mulino Bianco surprises was also an occasion for intellectual and creative competition, as if they were collecting pieces of art or artifacts of immeasurable cultural value. As it happens in the case of great collectors, their adventure was marked by moments of euphoria, by the struggle to complete their collection and the joy of finally being able to seize a piece for which they had been waiting. Each of them, as the collection gradually grew and the number of pieces increased, like any other collector, went from being a beginner to an informed amateur, up to becoming a real expert thanks to the knowledge acquired in the specialized field of the Mulino Bianco Surprises.
The collection also kept alive for eight years that desire, an almost magical thrill, to open a box of snacks hunting for the missing Surprise or for the one that you would absolutely want to find, according to whether one's own collection was born as a pastime or for a genuine passion.