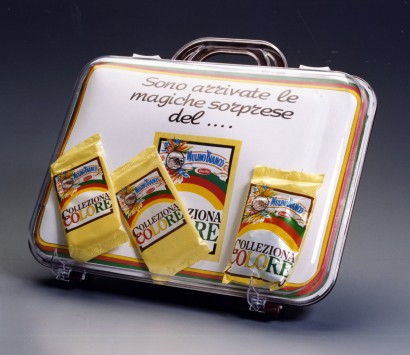 by Graziella Carbone
1990 – World Cup… Surprises
The soccer word championship of 1990 o Fifa World Cup (also known as Italia '90) was held as the fourteenth edition of the soccer tournament of national teams organized by FIFA every four years.
It took place in Italy from June 8 to July 8 1990. The tournament was won by the West Germany team, that became World Champion for the third time, first among 24 national teams.
The official mascot of the initiative was "Ciao", a stylized soccer player in a uniform of three colours who was sketched while dribbling and, taken apart and recomposed, formed the word "Italia".
The Italian team came out with flying colours from the championship, conquering third place with a good victory over the British team, in the semifinal match in Bari. Obviously, on such an important occasion, we could not miss Little Surprises themed on the "Italia '90" championship.
The first thing we did was to personalize the matchbox with the image of "Ciao". Very special Little Surprises were made: buttons, a drawstring to make a tricolour scoubidou, a whistle for cheering at the soccer field, a snap fit soccer ball that was a miniature scale of the real thing, adhesive tags, a mascot pin, Fly with Italia '90 (a flying sausage).
While the World Cup championship went on and Italy passed the tournament levels, the general enthusiasm grew. So the Marketing Directors of Mulino Bianco had me produce one million tricolour national flags to insert into snack packages. The production phase was raving. We found a company in the area of Como that printed us extremely long canvases from which the flags were cut.
A team of twenty people working on shifts 24 hours a day sewed the borders and other team assembled it all bu folding the flag and placing it into transparent bags. I do not know how we did it, but we made it: in two weeks from the momento of the request the flags were in the packages of snacks on the scaffolding's of supermarkets.
1990 – Goodbye, little boxes!
The matchboxes were too tight by then. We felt the need to propose bigger Little Surprises that had a greater visual impact. So the Collectacolor series was born, featuring 37 gadgets made of plastic and of large dimensions, characterized by the colours yellow, red, and green and packaged in multicoloured opaline bags.
Many gadgets were multifunctional, like a pencil sharpener cactus, a backgammon ladybug, a paperclip holder soda can, an artist palette traffic light, or a four leaf clover compass…
Once the unity of graphic project and container was lost, from that time on each year different promotions appeared, destined to last a more or less short period of time.
From 1982 to 1990 over 550 different surprises in hundreds of variants were made. A creative, productive and logistics adventure with no equals.