PMB is born – Piccolo Mugnaio Bianco, The Little White Miller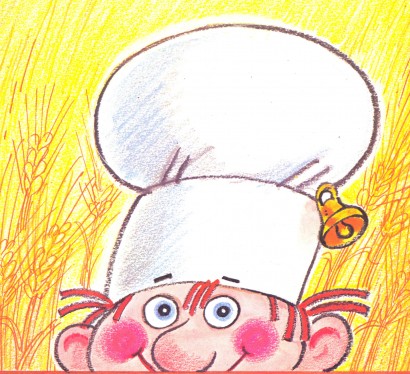 by Graziella Carbone
1984 – Little Erasers, yes or no?
The Little Erasers shaped like products and distributed starting from 1983, were an unprecedented success in Italy. Almost nobody used them as erasers, but all children brought them to school to play games and exchange doubles. These became the elementary school teachers' nightmares, and they would take them away at the start of lessons and gave them back to the children at the end of the day, as they did with all other Little Surprises.
Erasers shaped like things that could be interpreted as scale models of foods to eat were already very popular in the United States and in England, most of all as refrigerator magnets (made of PVC – today completely outlawed as this type of material contains toxic residue), or as collection items, and all of apparent value.
It was the end of 1984. A child about six years old in England, (we will call him John for convenience) in a wealthy suburb of London, received a costume for a Halloween party. Later on, he would go knocking on the doors of the neighborhood with his friends asking: "Trick or treat?"
Among the accessories of his costume for the night between October 31 and November 1 there was also a scale model of a mega stuffed sandwich of a well-known fast food chain in the shape of an eraser. It was 3×4 centimeters and featured layers of bread, cheese, salad, pickles and tomato based sauces. The entire group of children gathered at the house of one of the friends. Each of them had a small basket with some sweets prepared by their mothers in the afternoon, and a few "tricks", like the scale model of something that seemed to be edible, but actually was not.
John was the smallest child of the group and it was the first time that he took part in a Halloween party with his friends.
It was late evening, and perhaps he was a bit hungry or perhaps he was attracted by the colors of his erasers. Almost as a game, he started eating one, then another, and then one more. However, erasers are not sandwiches and John could swallow the bits. His friends were scared and brought him back home. His mother made a desperate race to the hospital, but unfortunately the tragedy could not be avoided.
The news appeared in Italian newspapers, and not only, as a blurb among many others.
Barilla, always attentive to what happened in the world, caught on this information as an alarm bell. If it happened in England, it could happen with our Little Surprises as well…and this must not absolutely happen to our children!
The Company immediately stopped (November of '84) the production of any small objects representing foods, anticipating the times. On July 5 of 1985, the Ministry of Health published a ban on the import of objects that simulated food. A few years later, Legislative Decree 25/1/92 n.73 regulating the matter was issued, and it is still current.
Therefore, there was a stop to the production of all Little Surprises, erasers and other types, that could suggest foods and be ingested. The production of small erasers shaped like products was immediately suspended, as that of many other Little Surprises.
Scented Little Surprises were discontinued as well, like those of the game of scented colors.
Since then, nothing shaped like a food product or similar to it can be combined and inserted together with the real product, so as to avoid any possibility of confusion.
But as my Grandmother would say, when a door closes, another one opens up…
1984 – Miniature adventures
In 1984 the advertising campaigns of Mulino Bianco were enriched by a character that conquered all of the Italian children for almost ten years: The Little White Miller (PMB Piccolo Mugnaio Bianco for his friends), the protagonist of entertaining animated short films. It was created in 1982 from the pen of one of the most important Italian illustrators of the 1900s: Grazia Nidasio (1931-2018).
This character inspired a series of Little Surprises created from 1984 on, and Nidasio recalls their creation in her own words: «The Little Miller in his Happy Valley was surrounded by many miniature objects: I even made a real scale model of the mill where he lived, complete in every detail…
I had the idea to create a merchandising of small miniature objects that could be found inside PMB's mill, even though that project did not materialize. Instead, several other ideas, fully coherent with the image of the brand and the character, were produced.
For example, Boxed Surprises personalized with the design of the Little White Miller on the package were made. These replaced the previous packaging that resembled match boxes.
Some of the gadgets contained inside the boxes were created in reference to PMB, like the adhesive tape, the small rubber stamp… Then came the Surprise Cans, still illustrated with the drawings of the Little White Miller who, for example, was racing on board of fancy cars looking a bit like space vehicles.
In those years, I also was studying the possibility to produce figurines with our character riding in a toy car, or flying a miniature plane or riding a jet ski. I followed the project, made a model using Das clay or plasticine and then I submitted it to the Agency. Not just me, but the whole creative team was always generating new ideas: some of these were approved by the company, others unfortunately were not. For some time, calendars featuring the Little White Miller which I designed were printed and published issued with children's and family magazines: each month our hero, always in a good mood and filled with hope, prepared a different snack for Clementina who, every time, failed to notice him…
A calendar that was particularly successful was the one that children could hang in their bedrooms and check how much they were growing progressively. Then, comic adventures with PMB were created and illustrated by the designers of RDA70.
Of the line of crockery for breakfast, which I drew as a complete set, only the tray was produced. Among the gadgets that were produced, were birthday napkins with PMB, the fishing boat of the Little Miller, a hand cranked flashlight, the Mill in a half ball with snow, flowers, rain and so on. Also, there were the postcards and letter paper with the figure of PMB which we used to answer to the avalanche of letters that children sent to the address of the "Little White Miller, Mill of the Happy Valley" and that the postal service was able to forward to Barilla, with a great poetic spirit.
We had many other stories, gadgets and promotional activities in store…But in 1989 the company decided to discontinue the campaign spots with PMB».
1984-1985 – The Maxi-surprise holder
One Little Surprise at a time, homes became filled with a lot of them…
Therefore, back then like today, mothers did a bit of housecleaning and threw away things. Why not create a holder where these could be collected orderly, to avoid that mothers would throw them away, then?
Thus, the Maxi-surprise holder was born with a double function of gadget and binder to keep the Little Surprises orderly at home. The Maxi-surprise holder project kept us busy for several months in 1984. In October of 1984 three hundred Maxi-surprise holders were set as prizes for a competition on the "Corriere dei Piccoli". In the summer of the same year, the Maxi- surprise holder erasers were produced and inaugurated a game of self-references that would soon become a habitual thing: erasers as miniature replicas of larger games; miniature block notes with the same shape as the erasers.
However, production proceeded slowly: the trials and testing were numerous because the gadget was made of two materials with different technical qualities. Finally, the project was suitable for approval in January of 1985, and in late spring, production began. In October, at a distance of one year from its launch, the winners of the competition on "Corriere dei Piccoli" were able to receive their prizes.