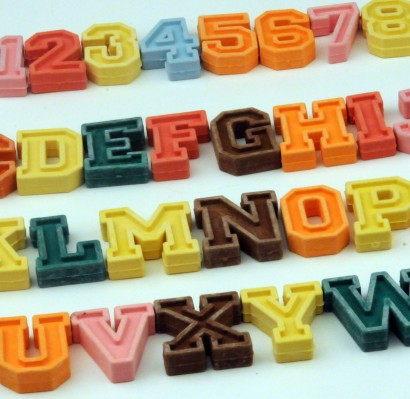 by Graziella Carbone
1989 – PMB in… a can
In 1989 the Little White Miller mounting his beautiful motorcycle did not appear anymore racing on little boxes, but on the Surprise Cans instead. A special promotion featured the reprise of a good number of Little Surprises that were already inserted in the snack packages. These were organized by a "theme" inside the small cans that were produced in 18 different versions, and were lithographed tin in bright colours with Grazia Nidasio's imaginative drawings. These showed the image of "Piemmebi" on board of  fanciful cars and a bit like space vehicles that today are very sought after by collectors.
The small tin cans were not part of the Little Surprises in a strict sense, as they were not the surprises inserted in every snack pack, by they were distributed at cash registers with the purchase of snacks.
1989 – The Little White Miller goes away…
At the end of 1989 the Mulino Bianco communication was updated. It transformed and lost a bit of the family life feeling that the previous spots created by presenting life in the countryside, and giving the whole thing a somewhat of oneiric and dreamlike  aura. The Young & Rubicam agency completely abandoned the rural scenario and began to propose again the values and sentiments of that world, immersed into everyday life, however, this was not very convincing.
Just as we were thinking of creating 3D characters – that is three dimensional – of "Piemmebi" and of  Beautiful Clementine, the spots were cancelled.
And so, all things, the series of  the adventures of "Piemmebi", that in time had their evolution and now seemed to be on a declining curve, came to an end.
Millions of  Little Surprises produced with its image testified all the same its success and the affection of children for our little hero, and still keep to testify it, seeing the specific interest of collectors in this specific kind of Little Surprises.
For two years, in 1986 and 1987, calendars with its image were also made. Though, the most successful gadget produced for a specific operation and distributed in supermarkets was a long strip of cardboard that children could hang in their rooms to measure the progress of their growth in height, comparing it with that of a minuscule PMB.
From that time on, the Little Surprises did not feature the image of the "Piemmebi" world anymore. I like to still think of him in his tiny mill, intent in preparing some tasty snack for Clementine. Who knows if perhaps in all of these years Clementine ever noticed him and finally fell in love with him…
1989 – The arrival of Little Ghosts
The year 1989 marks a turn in the world of Little Surprises. We switched from  personalized Little Surprises to Little Surprises of any kind, where the code word is "Quantity in variety and variations".
Among these, a Little Surprise that was particularly difficult to make was the Catch All, a series of six small ghosts with funny names like Catcher of Luck, Catcher of Cats, Catcher of  Secrets, Catcher of Small Mice, Catcher of? (that was exactly its name), and Catch All. Each Little Surprise was composed by a base of plastic material and by a round piece made of shiny cloth that looked like silk, and that simulated the dress.
What made the difference between a Catch All ghost and another were the self sticking eyes, a felt nose, and various accessories like little neckties and hats and a different symbol embossed under the feet.  One of the ghosts even had a very funny "magiostrina" (a straw hat that had that name because it was worn from the month go may on).
Actually, the people who assembled this Little Surprise had to deal with eight pieces. All was rigorously hand made. Quite an adventure!
1989 – 3D Little Surprises
Games in 3D (that is three dimensional: width, length and depth), came out of a matchbox that was 6x4x1,8 centimeters.
The idea to make this type "thick" Little Surprises came to me while looking at the new scaffolding's that were being built in Nuremberg in February during the Toy Fair. In Germany, 1989 was a particularly cold year.
You could not walk in the streets for the strong winds and the snow falling down. In order to avoid that the beautiful fountains of Nuremberg would freeze or would pour icy cold water on the streets, strange jointed wooden structures were built around them so to cover them and protect them from bad weather.
In front of the wonderful Saint Nicholas Square – while I was freezing and waiting for a taxi to go back to my hotel – I said to myself… If it works for them, why shouldn't it work for our Little Surprises as well?
And so, as if for magic, the Little Surprises took shape, and became three dimensional and included the possibility to create obstacles or vertical elements.
I am thinking of the Three Knights Little Surprise. The game for three players consisted in entering into a castle from the drawbridge by overcoming various obstacles and exiting the back portal of the castle. To build the castle it was necessary to vertically combine the elements that made up the walls.
Confronting the finished castle and the little box that contained the parts, one immediately realizes that the dimensions of the game are really noteworthy. Likewise, the Flees Olympic Games with lateral rods 9,5 centimeters tall to snap fil and the game of Ocean Fishing that featured a fishing rod (again, a snap fit piece) that became 11 centimeters long.
The transition from 1989 to 1990
The year 1989 was one of the richest years – both for quantity and variety – in the field of Little Surprises. There was a reason for this. Little Surprises were inserted in almost all snack packs, therefore the volumes of production were astronomical numbers.
The erasers, which were always very popular, made a comeback to support the need to dispose of different varieties of little Surprises, and mostly because many surprises were too complex for the long production and packaging times. Those were the years of the boom of eraser collecting, in any shape and subject. In 1990 we had another trend: the themed "Cerelli". Cerelli were wax pastels suitable to colour and integrate or replace the use of regular coloured pastels with graphite tips.
A new technology mare it possible to shape these in specific forms (not just cylindrical like traditional ones).
So the Cerelli shaped like letters of the alphabet and numbers were born. They were made in millions of pieces and packaged in sachets without a leaflet.
Thus, the theme of serial production, which has been already developed with street signs and flags, became more popular, before the unforeseen evolution of Little Surprises in 1991.