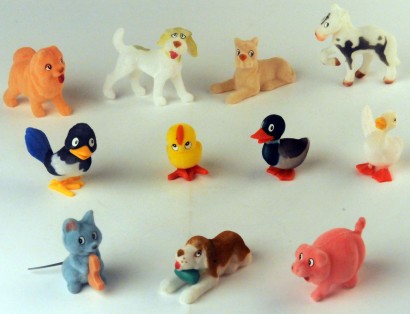 by Graziella Carbone
1991 – Microfriends
It was a series of scale models of animals made of rubber in variable dimensions – from 1 to 2 centimeters at the most – and inserted in pairs into packages of apricot and chocolate doughnuts. The Microfriends were coordinated by association (ex: cat-dog, eagle-mountain goat).
The entire collection comprised 45 animals that could be grouped in seven different environments.
To make these surprises richer, a series of 14 backgrounds were designed and made of die-cut cardboard that could be folded and used as a background setting.
On the back of each cardboard piece there were printed instructions for assembling the game and a few entertaining facts in the form of quiz game about the animals represented.
The Microfiends promotion was the fist in pack promotion (that is, with gadgets placed directly into the packaging) with no boxes, and developed according to the concept of "educational game".
The game of rubber animals, therefore more erasers;

The background scene "building" game;

The "read and learn" game of entertaining facts.
A specific aspect of this promotion was that the collectability of the series was communicated also through the packages.
1992 – The "Friends Always"
This promotion dates to the summer of 1992, and was created for an in pack campaign, and distributed in Sardinia only, with the purpose of testing it.
It was a series of small animals made of blown plastic and covered with a layer of dust that made them velvety to touch. The eyes were made of paper, and were applied by hand; the rigid parts were made of hard plastic. The smallest one was a three centimeters tall chick and the largest one a horse, more than 7 centimeters tall.
A rooster, a cow, a piglet, four dogs (Spinone, Saint Bernard, Chou Chou and Great Dane), a magpie, a duck, a mouse, a rabbit and a goose were all part of the series.
The promotion was remarkably successful: the characters were of large dimensions, and the subjects were charming, but… here come into the scene the Night Owls a series of nineteen… luminous friends!
Therefore this charming promotion was destined to appear…in Sardinia only.