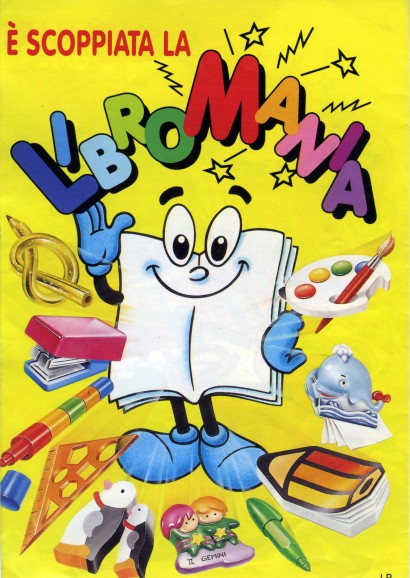 by Graziella Carbone
1995 – The explosion of Book Mania
We were now in 1995 and Mulino Bianco decided to insert a promotional gadget in every pack of snacks and brioches in production: Camille, Crostatine, Tegolini, Trancini, Nastrine and Saccottini.
Therefore it was decided to design a new "umbrella" series capable to revive the completive image value that the match boxes had, while renewing their image and perception. The Book Mania project was created as the evolution of the little beloved cardboard box.
It consisted of a small box in plastic material shaped as a miniature book and made in a single mold printing.
In order to choose the 21 colors in which it was produced, almost 100 trials were made.
Each box contained a sticker attached to the surprise that was held within so that every child could have fun personalizing the miniature book. However, the children did not know which surprise they would find within when they opened the book. Moreover, the miniature books could be hooked one to another to create a personal library that could be carried along at all times to school, in the backpack, or used to play with friends.
The miniature books contained 172 different subject divided into 21 different series: Acquerellologia (watercolor painting), Appuntologia (block notes), Attaccologia (stickers), Calamitologia (magnets), Clippologia (clips), Colorologia (colors and felt tip pens), Disegnologia (color pencils and pastels), Drittologia (drawing squares and stencils), Elasticologia (colored erasers), Evidenziologia (highlighters), Gommologia ( small erasers in 45 different subjects, ammonì which zodiac signs, animals, and car license plates), Grafologia (pens and graphite pencils), Mappologia (maps), Numerologia (calculators), Pausologia (games and fun), Pinzatrologia (paper punchers and staplers), Pratologia (seeds to plant), Temperologia (pencil sharpeners), Timbrologia (rotating and flat rubber stamps) and Truccologia (secret tricks).
Among the various surprises inserted into mini books, the maps of Nations were very successful.

They were printed in over a million for each subject. We wanted to have things useful for school, among the many different Little Surprises. However, reproducing cartography maps was not a simple thing… We needed to have certified companies that could guarantee the authenticity of cartography and of the exact proportions in scale (1 centimeter = 50 kilometers). I kept searching, and I finally found a publisher in Romagna who allowed us the use of their certified archives. It was a fortunate meeting, with a person with a generous heart. I went to see him and came back the same day because the production schedule to make this promotion were truly stringent.
At that point, we had the material and could print it… but how could we fold it in such a way that it could fit into the miniature books? It was necessary to find a method for automated folding, otherwise we would have an exorbitant cost with manual folding.
A stroke of genius! What is folded on itself so many tomes that you almost cannot unfold it? The leaflet contained inside medicine boxes.
Therefore we went to see a company in the province of Milan that specialized in folding these leaflets and they started to manufacture our miniature maps. The machines proceeded at very high speed to fold with precision, and the results were excellent.
The last fold was made during the hand made packaging, so that the map was not mangled inside the miniature book. To produce the various types of Attaccologia – stickers in PVC plastic in relief on a fabric base – we contacted a firm that was specialized in the production of hot air balloons and giant balloons.
For the Pausologia series, we experimented with innovative materials. In some board games the cardboard scoreboard (made like a puzzle to insert the game into a box that was much smaller), was printed in four colour print and an additional layer of ferrite. Ferrite is a sort of "magnetic ink" that has the function to replace magnets while serving the same purpose for adherence. This particular ink made it possible for the magnetic pawns to move along the game board without detaching from the base. These were the first Little Surprises to be made with these features for sure. The Gommologia series as well made use of production techniques that had been recently introduced. The "extruded" erasers had appeared recently – these were produced with rubber of various colours englobed together and not with pad printed colours on a monochrome rubber base, as we had seen in Italian production up to that time, and were an Oriental production. The first specimen appeared in the 1989 Little Surprises series (Ready…go and Transformer Erasers) featuring assembling miniature cars and monsters. On the wave of this novelty, many subjects of this type of rubber erasers were introduced and made in several million pieces.
Next to the eraser collectible games, useful gadgets like block notes, rulers, stencils, and stationary items were introduced.
Because of lack of space, it was impossible to insert a Book Mania box into the Plumcake packages. So we had the idea for a series of small books that were flat and would bot create problems with packaging.
These were a series of 16 book of 48 pages each plus a cover, which I edited entirely, from the initial idea to the format, design of inner parts, to all the contents and their declination.
The little books are divided into four series containing four titles each, and recognizable by the background colour and the difference in graphic design of the character: yellow (languages and countries), pink (quizzes and tests), light blue (environment and nature), green (sports and games).

1996 – All promotions were cancelled until 1999
Book Mania ended the second phase of the history of promotional gadgets, and not only for Mulino Bianco.
The year was 1996. The market analysis and company decisions brought to a suspension of all promotions, both the ones already programmed and those in the project phases. It was so, at least for that moment.
The suppliers were contacted by the Direction Office of the Purchasing Department to communicate that this was the new company policy.
A very nice in pack promotion, Mohican dogs and Mohican cats, was completely cancelled (only the preliminar drawings remain at the archives). It was the beginning of November. The news that Barilla cancelled the promotions, both in pack and as point collections, rapidly spread around other companies and agencies. Many others followed the same path and many promotions were suspended or cancelled. We had to wait a few years to see such promotions again. Mulino Bianco reprised them in 2000 with the Flauti Band.