The Wonderful World of Marisa Laurito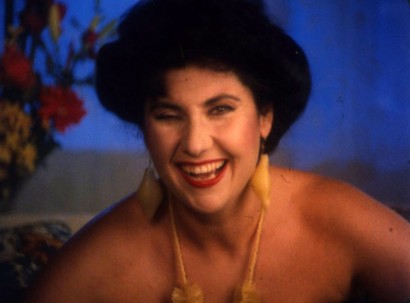 by Emmanuel Grossi
Marisa Laurito began her artistic career at a very young age, both as an actress (she acted for a long time with Eduardo De Filippo), and – a fact that very few people know – as a painter. However, popularity and well deserved success came to her only after her thirties, thanks to television and to Renzo Arbore, who included her in the cast of Quelli della notte (Those of the night) in 1985 together with many new faces destined to a bright future.
Thus, her career took off: she took part in many shows and in the fall of 1987 she appeared on RAI's top rating national TV show Fantastico (Fantastic) by request of Adriano Celentano, the imaginative showman.
Alongside with this memorable and overwhelming experience, Marisa became a featured celebrity in the advertising for Voiello pasta, that had launched television campaigns under the creative direction of Marco Mignani, at first for the TBWA agency and then with his own agency, RSCG MCM (which he founded and led with Alfonso Costantini and Dario Mezzano and which was affiliated to the prestigious French giant).
However, this campaign was very much a team work: ideas and screenplays were born from a think tank thanks to the synergy of several advertising experts with Ugo Porcelli, producer and author of many successful programs for radio and television (first among which Arbore's programs, with whom he had been collaborating since the times of Alto gradimento – Top of the Charts). In this instance, he worked exceptionally as director.
This is just one of many peculiarities that made the campaign a memorable one, for many aspects unique in the history of communication. Another interesting element is the huge amount of movies produced by Central as a company: about twenty subjects, each found in more than one version.
Yes, because every commercial (this is one more distinctive aspect) is a brief monologue with Marisa, who shot both the 30" and the 15" versions specifically, often improvising and speaking freely on a set topic, and then giving the floor to a dazzling Riccardo Paladini, who was a previous TV news journalist and producer (also an advertising producer), for the institutional campaign message.
A further touch of exquisitely kitsch taste was given by the costumes designed by Graziella Pera in the same style of those made for Marisa's program that at the time had been recently aired as a late night show, Marisa la nuit (Marisa's Late Night Show). These reveal to the most careful observers one of the most crazy operations of decontextualization of a product ever seen: pasta shapes were used as decorations or accessories instead of pearls, precious stones and various decors.