Mina: from Canzonissima to Carosello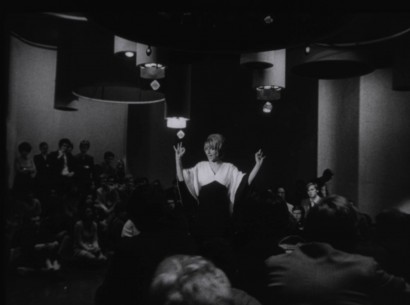 By Emmanuel Grossi
Mina had been a successful and winning brand ambassador for Barilla for three years even though all around her there were continuous changes in terms of agencies, production companies, strategies and context of communication. The autumn of 1968 was a turning point in her career: she was offered to present Canzonissima, the top rating variety show of RAI3, together with Walter Chiari and Paolo Panelli. This program was scheduled to be aired again after a period of five years in which attempts were made to offer similar programming as variations on a theme, with alternating fortunes. The season authored by director Antonello Falqui (the creator of all of Mina's television successes and also of some of her Barilla Carosello commercials), was remarkable for its elegance, artistic value and the prestigious cast which featured forty-eight among the most important Italian singers, including Mina, as top featured artist.
The series of advertising Carosello  shorts that was aired immediately after the final episode of January 6th, 1969, was designed as a direct continuation of the show, even though filming had moved from the Teatro delle Vittorie to the Vun Vun night club of the EUR district in Rome.
As in Canzonissima, Mina wore a long black dress with a white tunic top and wide bell sleeves by Corrado Colabucci, the most elegant costume designer of the time, and she performed songs that had already been featured on the television show, some of which were recorded in the album by the same name, "Canzonissima '68": Nothing at all, When I was young, Sacumdì sacumdà, the closing theme song I wish it were love, and some passages of the songs Fantasy and Me in love4.
The final result, however, was completely different from that of the Saturday night variety show. The direction of the series was entrusted to the most brilliant of Italian advertising film makers, Enrico Sannia, who made the songs even more evocative by having Mina stand out from the thick darkness of the room with her blond hair and those sleeves evoking sort of white angel wings by using unexpected and sudden camera motion that fell in sync with the music.
He was supported by cinematographer Ennio Guarnieri who had already worked with Mina in her first Carosello series for Barilla directed by Valerio Zurlini; Sannia instead, worked for the Barilla company again in 1981 on the Discover the taste of midday new campaign and then later in 1995 on a series of extremely short and striking commercials that re-proposed the historic slogan "It's always time for Pavesini" in a surreal style.
1. Popular Italian music TV show.
2. Popular Italian artistic and advertising series.
3. Public Italian Radio and Television
4. These are literal translations of the original song titles: Niente di niente, Quand'ero piccola, Sacumdì sacumdà, Vorrei che fosse amore, Fantasia and Io innamorata.