Ma cosa mi dici-dici mai!? (What are you saying-saying to me?)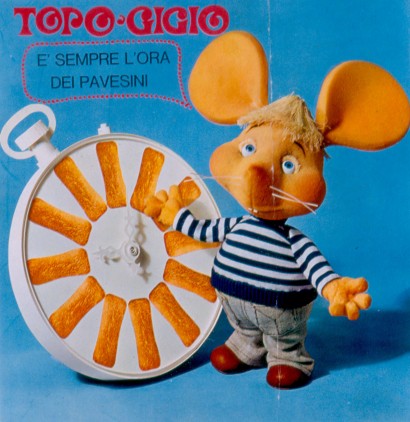 di Emmanuel Grossi
In the wonderful world of animated puppets (marionettes, puppets and their more and more technically evolved descendants), Topo Gigio masters a top rate position as the most famous Italian puppet, and one of the most renowned on the international scene. 
Born as a sidekick in collective series, "Il Gigio" – as his mother Maria Perego lovingly calls him – immediately demonstrated to have the qualities of a protagonist and conquered the hearts of grownups and children alike, reaching the highest levels of popularity worldwide. In the world of the 1960s and 70s where trends and fashions took time to propagate, news travelled slowly and even more so did trains and airplanes. In spite of this, Gigio did not know any obstacles neither frontiers.
Together with Mrs. Pergo, he was a guest of the mythical Ed Sullivan Show in America about ninety times, and was a guest in hundreds of variety television shows in Argentina, Austria, Germany, England, Mexico, Portugal, Switzerland and most of all in Japan. There, in 1969 he also starred as the protagonist of a movie, Topo Gigio and the missile war. Together with two Italian films, The adventures of Topo Gigio of 1963 (directed by Federico Caldura, husband and collaborator of Maria Perego) and Topo Gigio travels around the world in 80 days of 1989 (directed by Romolo Siena), this forms a movie trilogy. 
His frenetic activity though was not limited to the big and small screen: he inspired lines of merchandising, we found him in a stuffed toy version, as an animated cartoon, and in children's books. He took part in many live events (most of all, the charity initiatives of the Antoniano of Bologna) and recorded dozens of records (in which he acted or sung) for the Italian, Spanish and Southern American markets.
His voice was born from a record: Maria Perego recalls that the inspiration for it came to her while listening to La sveglietta (The little alarm clock) by Domenico Modugno in doubled speed. The actor and dubber Peppino Mazzullo – who was also known as Richetto to his audience of children, playing the character of an undisciplined school boy often as a side kick to Cino Tortorella playing Mago Zurlì – immediately oriented himself to that direction and modulated the voice on those tones.
Mazzullo continued to dub Gigio for half a century not only in Italian language, but also in Brazilian, Spanish and English, and later on retired to private life in his native Sicily, in his late years.
One of the first Carosello shorts that Gigio made for Pavesini was centered on La sveglietta. Gigio was a solid testimonial for Pavesini from the summer of 1962 to almost the end of the 1970s. In the span of fifteen years we witness the evolution of his image, and we see him becoming cuter and plump, speaking to the children watching at home and on the live set, singing the jingle "I bought Pavesini and I am proud of it" (on the music of I salamini by Ettore Petrolini). We see him as host of prize contests that followed one another and most of all we see him interacting with many actors, starting with the talented supporting actors Ettore Conti and Elio Crovetto. Very soon, he stepped out of his small theater to interact with humans in the real world (thanks to great technical acrobatics). He becomes actor, imitator, gardener, ski champion, author of a reader's mail column and of a telephone help line, clumsy car and motorcycle driver, military soldier, model and, on several occasions, clumsy secret agent with code name Double-O-Comma. 
Gigio debuted on Carosello in 1961 for the Movil synthetic clothing of the Montecatini company, with perfect (and absolutely coincidental) synchronicity, as this was the same industrial group that through the Alimont (later called Alivar) food department bought Pavesi later on.
Topo Gigio and Pavesini remain an affectionate, inseparable pair to those who were children in the 1960s and 70s.