DARIO FO: Barilla, three friends and a big liar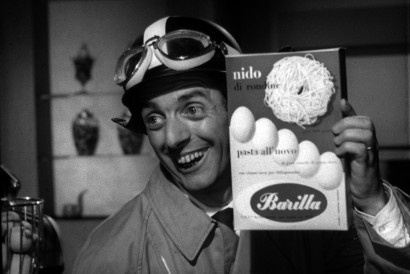 by Emmanuel Grossi
Between the end of the Fifties and the beginning of the Sixties, Dario Fo often worked on television and began to achieve notoriety among a wide audience, that started to find his wild-eyed facial expressions amusing, along with his improbable stories and his surreal social satire (the small amount of it that still was left after censorship). Up to that time, he had been acting in other people's plays as well as his own, such as The corpses are shipped (suggesting the other half of the title, and the women get undressed), staged in 1959 at the Gerolamo Theater in Milan, which he directed himself and which was filmed for television by Vito Molinari.
His honeymoon with RAI1 management, however, did not start until 1962, as he was featured in a series of tv comedies, and was given the conduction of the variety show Chi l'ha visto?2 and then even of Canzonissima3, that later caused him a period of fifteen years of ostracism.
At the time when Barilla engaged Dario for ten commercials 4 to be broadcast during the second semester of 1959, his television visibility was mostly associated with advertising. During the first two seasons of Carosello5, he had already worked for several clients in various situations: with his wife Franca Rame, with independent actors (Giacomo Furia, Carlo Hintermann…) and with the theater company he had at the time.
We see all the members of the company (except for Franca) in the bar sketches written for Barilla: Antonio Cannas, Mario De Angeli, Lisetta Landoni, Piero Pandolfini and Mimmo Craig, who four years later became a famous testimonial for Sasso oil, with his bad dreams and rough awakenings cheered up by the fact that: "the belly is gone".
In Barilla commercials Mimmo, alternating with a ruddy Elio Crovetto, after hearing Dario making up stories about heroic gestures, sports achievements and artistic talents, throws him the final line: «I don't buy this»6 «What about this? You do buy this!»7. "Always! It's Barilla pasta!" giving the clue to the advertising finale with a long digression typical of the early Carosello shorts.