A foulard by Erberto Carboni (1956)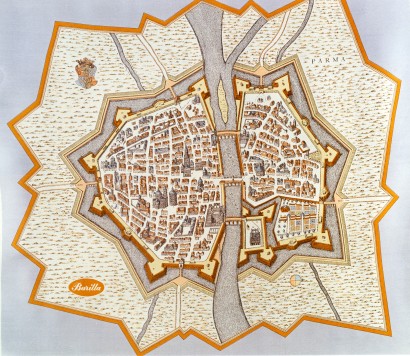 by Giancarlo Gonizzi
– This Sunday I will go to the mountains – Mrs. Boera – as sweet as the bonbon candy evoked by her name – had been telling me her programs for ten long minutes and I still did not understand where this would lead. An acquaintance we had in common had given her my number and she called me on a warm morning at the beginning of summer.
Her house was isolated, in a valley of the High Apennines and she did not go there often. Since the weather promised to be good, she decided to take a trip up there. She wanted to know – and finally we reached the point of the call – if we would be interested in an object that she remembered she had left up there: a silk foulard with Barilla advertising on it.
She could not see me, but my eyes jumped out of their orbits. What were we talking about? She only remembered that there was an ancient map of Parma and a logo on it, and that she had received it as a gift many years earlier, when she was a young lady, from her grocer.
I did not dare to ask her age, but I guessed it from her voice and made a calculation:  this happened during the 1950s. We did not have it. It would have been nice if we could recuperate it.
To tell the truth, this thing had gotten into my head and I started to search through the designs by Erberto Carboni (1899-1984), who worked for Barilla from 1952 to 1959.
A native of Parma, after finishing his studies at the Fine Arts Academy of his city, he graduated in Architecture in 1923, and devoted himself immediately to graphic design and illustration, making sketches for the most important chromolithography shops among which Zanlari and Zafferri.
In 1932, he moved to Milan where he started a collaboration with the "Modern Office" magazine directed by Guido Mazzali. From that year on, he started advertising collaborations with the most prestigious Italian companies: Motta, Olivetti, Campari, Strega, Lagomarsino.
As an architect, he designed a number of settings for shop windows, stores, pavilions, fairground and show exhibits and transformed the façade of Palazzo Dell'Arte of Milan for the Triennial of 1935: this was a prestigious engagement that he earned by winning an important contest.
His collaboration with Barilla had a precocious beginning in 1922, thanks to a year calendar (photo 1) printed by the Chippuis Lithography Shops of Bologna. Pietro Barilla, seeing the success of the operation, called him again in 1938 when he made a new calendar together with Amilcare Pizzi – «An Homage to Italian Women» (photo 2). Under a "regime" title, this opened outstanding perspectives for modernity. Pietro, who became his friend and described him as an elegant person, very cultured, intelligent and well educated, appreciated his ability to view things and wanted him to promote the global image of the Pasta factory (photo 3-4) from 1952 in a continual manner until 1960.
In 1952 he won the «Golden Palm» (photo 5) of advertisement for the campaign «With Barilla Pasta it is always Sunday» (photo 6).
I searched for a long time among the numerous designs by Carboni and finally I found a kerchief represented for advertising pages (photo 7) in the daily newspapers of 1956 – «In Old Parma» – represented in black and white. It seemed to be just an advertising image. Perhaps they had produced and distributed it?
A few weeks later I met Mrs. Boera who, after describing to me her little house in the woods, without electricity and running water, showed me an elegant gray color small cardboard box with the Barilla logo.  Out of it came a foulard (cover photo) protected by tissue paper, in blue gray and yellow ochre tints, faithful to the image that I had seen in the commercial advertisement. Elegant and refined, like all the things Carboni designed.
We exchanged gifts: the elegant kerchief remained in the Archives in exchange for a supply of spaghetti.
Today Mrs. Boera is no longer among us, but every time I see that object, one of the first promotional gadgets of the company, of which we still have not recuperated or understood the mechanism, I think back to her house in the woods and her strange phone call of many years ago.