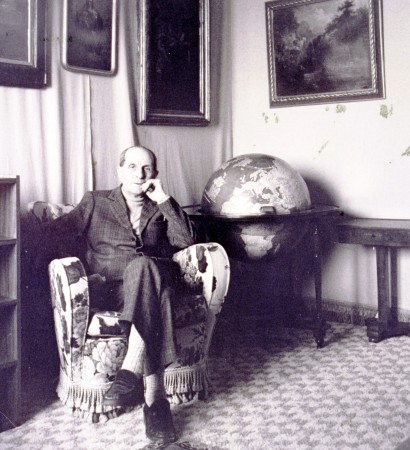 (Genoa, 1903 – Pesaro, 1980)
Tito Peretti was born in Genoa on March 27, 1903. He studied decoration, set designing and architecture at the Brera Academy; his fellow students were Palanti, Mentessi and De Luca. He worked in Milan, in the field of decorating, and created works in numerous Lombard villas and palaces, from the Villa Reale in Monza, to the Royal Palace in Milan, to Villa Carlotta in Tremezzo (Co), until 1928, the year in which, following important commissions at the Terme Berzieri in Salsomaggiore and at the Hôtel Principe, he moved to Parma, where he continued to work as a decorator, and after 1940, also as an interior designer. He had two personal exhibits of watercolors in Parma: in 1967 at the Galleria Camattini, and in April of 1979 in the halls of the Collezionista gallery of Piancastelli. The works he exhibited, all of them watercolors, showed great skill. The themes he covered ranged from views of historic Parma to those of towns in Umbria, from the historic suburbs of Barcellona to views of the Tellaro historical town. He carried out restorations and created decorations in important historical buildings in Milan and Naples; there in particular he worked in Palazzo Cassano Serra. In 1952 he drew a perspective view of the trade-fair pavilion in Parma at the north edge of the Parco Ducale, now in the Historical Archive of the Fairs of Parma. In 1929, on behalf of Barilla, he created the architectural scenes and faux ashlar decorations that ornate the elegant shop that the company had opened in the central location of Via Cavour. When the local sales distribution was dismissed at the end of the World War II and the shop was dismantled, the decorations were lost and only survive in a few precious snapshots by Alberto Montacchini. Tito Peretti died in Pesaro, at his son's house, on June 21, 1980.
Cecilia Farinelli
Bibliography
MARCHESELLI Tiziano, in GP, 1990, 25 June, p. 3.
GONIZZI Giancarlo (edited by), Anni di latta (The Tin Years), Parma. STEP per Fiere di Parma, 1995, p. 48.
MARCHESELLI Fabrizio and Tiziano, Dizionario dei Parmigiani (Dictionary of the People of Parma). Parma, Tipolitografia Benedettina
Editrice, 1997, p. 240.
LASAGNI Roberto, Dizionario biografico dei parmigiani (The Biographical Dictionary of the People of Parma). Parma, PPS editrice, 1999, p. 869.