MARIO PUPPO – Illustrator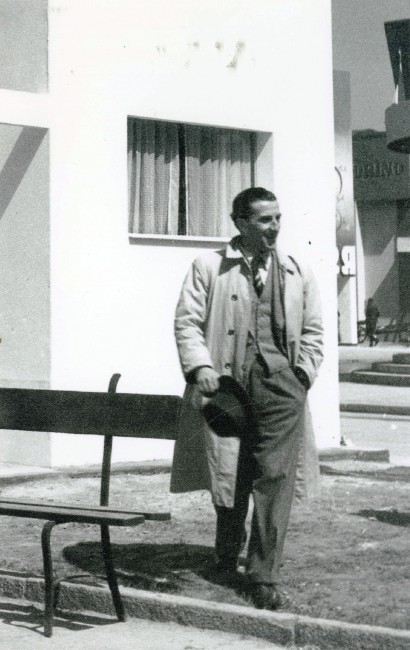 (Levanto, SP, 1905 – 1977)
Mario Puppo was born in Levanto on February 8, 1905. In the 1930s, in his studio in Chiavari, he had already begun to produce leaflets to advertise seaside and mountain resorts. In 1941 his works were exhibited in Milan the Advertising Graphics show at the National Exhibition of the Fine Arts Syndicate. He designed various covers for music scores, catalogs and leaflets. In the 1950s Mario Puppo designed many of the tourist posters present on the market in that period. He also created playbills for theatrical events that were staged in in Ostia and Pompeii. In 1937 Puppo created the annual calendar for Barilla, printed by Pizzi in Milan and characterized by realistic designs in the blue shades of a somewhat rigid Art Déco style, which show different human activities (sport, study, work, military life, etc.) and the products of the pasta factory. According to the critics, his graphics produced before the war were very effective and much admired, while his post-war production was characterized by the dynamism of the volumes, in particular those of bathers and skiers.
Cecilia Farinelli
Bibliography
PRIARONE Giuseppe, Grafica pubblicitaria in Italia negli anni Trenta (Advertising graphics in Italy in the 1930s). Florence, Cantini, 1989, p. 33.
Catalogo Bolaffi del Manifesto Italiano, Dizionario degli illustratori (Bollaffi catalog of the Italian Billboard Poster, Dictionary of Illustrators). Turin, Bolaffi, 1995, p. 180.
CALAMINICI Francesco, ZUNINO Anna (edited by), Barabino & Graeve. Storia di una grande industria grafica a Genova (History of a great graphic industry in Genoa). Genoa, Corigraf, 1996, pp. 95, 100-101, 102, 103, 104, 105, 118.