HERBERT LEUPIN – Illustrator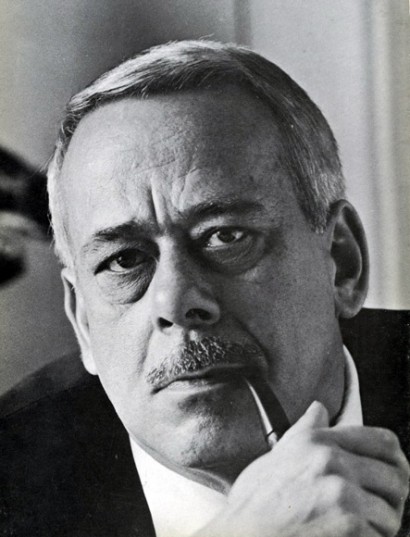 (Beinwill, Switzerland, 1916 – 1999)
Born on December 20, 1916, after attending the School of Decorative Arts of Basel from 1932 to 1935, in 1936 he studied for one year in Paris with Paul Colin and discovered Cassandre, who influenced him with his sober and natural style. Back in Basel, Leupin opened his professional studio in 1937. His activity spanned the various fields of graphic art, from sketches, to logos, to illustrations, to publishing graphics. But paradoxically, in spite of his versatility his works are marked by an unmistakable style. His signature is irony and his way of hinting at things.
Under the influence of Savignac, Leupin started to use humorous situations applying them to advertising graphics. For every subject he found a word game, a trait that caught the attention, or a funny detail that was either sweet or made one smile.
It is the case of Fresco Freschissimo (fresh, very fresh – note: an alliteration pun with the musical terms Presto, prestissimo in Italian), the poster for the Barilla bread sticks that he created around 1965 to launch this product, where an ironic orchestra director intent in conducting the Barber of Seville by Rossini – on which aria the head line is sung – uses a bread stick as a baton. The image is spontaneous and naive and was used for the making of a window decoration and of a three-dimensional figurine in wool cloth, destined to be showcased in stores (1). It was not yet a modern advertising campaign but it was a promotional operation that on the request of the CPV agency was carried on by one of the most famous billboard poster designers of the time. Leupin died in Basel on September 21, 1999.
Giancarlo Gonizzi
NOTES
1) Herbert Leupin, Fresco Freschissimo (Fresh, very fresh). Original Sketch,1965 ca. Mixed techniques 70×50 cm. ASB, Rcf 6. Inv. n. 8305. Window decoration: ASB, O, Leupin Folder. The three dimensional puppet made in two different sizes is unfortunately lost, but a reconstruction made by the students of the "Paolo Toschi" Institute of Art during the 1992-1993 school year is kept in the archives