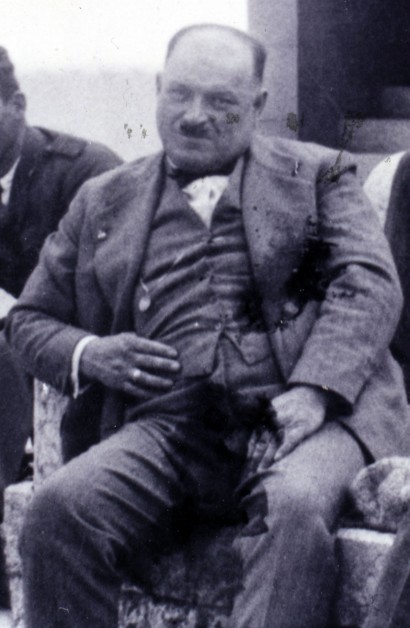 (Parma 1878 – 19 69)
Giovanni Casalini was born in Parma on March 26, 1878. The son of a family of merchants of Parma, he studied from 1888 at the Maria Luigia College. In those years, in part due to the fact he spent time in the school's detention hall under punishment, he began to reflect on life, and while observing what he could see from the detention room's window, he began to cultivate reflection and poetry. His first lyric poem was La fatina dei colombi (The Fairy Maid of Pidgeons) dedicated to a girl (the daughter of the school custodian) who had offered him a rose from the window. He graduated with a degree in Law and looked after the office of the United Hospitals in Parma. He was a friend of Gabriele D'Annunzio and Renato Brozzi. His true passion was poetry in Parmesan dialect and after the death of Domenico Galaverna he followed in his footsteps and continued the writing of the vernacular almanac Battistén Panada. The most important experts in the Parmesan dialect (Mariotti, Scotti, Arnaldo and Latino Barilli, Bocchialini, Molossi, Gambara and Pezzani) admired him greatly. Part of his poetic production is gathered in two volumes: Ataca al Camen and L'Angiol d'Or. For the Barilla Company, Casalini contributed to the publication, with a series of rhymes using the ending 'illa', of the advertising Calendar for 1920, illustrated by refined images of the signs of the zodiac. In the local satirical periodical Riccio da Parma Casalini mocked his friend Riccardo in a friendly way on the occasion of the Marian processions in 1927. Together with Riccardo Barilla and Brozzi, he was present at the Vittoriale to visit D'Annunzio in 1930. Casalini died in Parma on May 6, 1969.
Cecilia Farinelli
Bibliography
BOCCHIALINI Jacopo, Poeti del secolo nuovo (Poets of the new century). 1926, p. 87. AP, 5, 1925.
ALCARI Cesare, Parma nella musica (Parma in music). Parma,1931, p. 46. AP 2/3, 1969, p. 222. Antologia della poesia dialettale (An anthology of dialectal poetry). 1970, 25.
BIANCHI Valdo, Le veglie di Bianchi (The wakes of Bianchi). 1974, pp. 151-153.
MARCHESELLI Fabrizio and Tiziano, Dizionario dei Parmigiani (Dictionary of Parmesan People). Parma, Tipolitografia Benedettina Editrice, p. 87.
LASAGNI Roberto, Dizionario biografico dei parmigiani (Biographical dictionary of Parma people). Parma, PPS, 1999, p. 924.