FRANCESCO ALBERONI – SOCIOLOGIST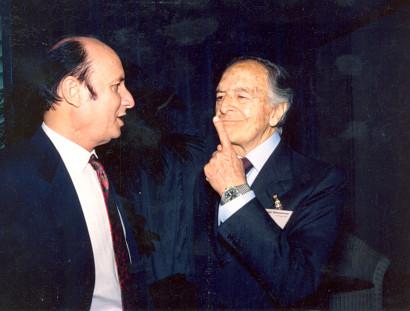 (Borgonovo Val Tidone, province of Piacenza, 1929 – Milan, 2023)
A sociologist, university professor, authot and journalist, Francesco Alberoni was born in Borgonovo Val Tidone, in the province of Piacenza, on December 31, 1929.
After graduating in Medicine from the University of Pavia, he broadened his interests to psychiatry and psychology, following in the footsteps of Franco Fornari (1921-1985), then of Father Agostino Gemelli (1878-1959), founder of the Catholic University, and later further to social phenomena and traditions.
In 1960, he was appointed as a professor at the Catholic University, first of psychology then of sociology, although his extensive work at university level saw him made Rector of the University of Trento (1968-1970), and professor at the Universities of Catania and Milan. In 1997, he was one of the founders of IULM in Milan, and its first Rector through 2001. He acted as a consultant for various major Italian businesses.
He was also President of the Italian Association of Sociology, a Board Member at RAI and Cinecittà (2002-2005) and President of the Centro Sperimentale di Cinematografia in Rome (2002-2012).
His research concerned mass communication (1963), consumerism (1964), migratory phenomena (1967), political participation (1967), collective movements (1977), and the art of command (2002).
After the publication of Innamoramento e amore ('Falling in Love', 1979), an international bestseller published in 25 languages, he repeatedly returned to the subject in many other essays.
At the same time, he worked extensively as a columnist for Corriere della Sera (from 1982 to 2011, including the front-page column "Pubblico e privato", later published as a book), and for La Repubblica, Il Giornale and other Italian periodicals.
Associated with Barilla from the 1960s onwards, he worked as a consultant on corporate advertising (he was the author of the texts for Mina's carousels, 1965-1970), he took a leading role in setting the communication strategies of the new Mulino Bianco brand, where he continued as a consultant alongside advertising agencies from 1973 to 1975.
He also authored the biography of Pietro Barilla (1913-1993) – to whom he was bound by a profound mutual esteem and friendship – Tutto è fatto per il futuro: andate avanti con coraggio ('Everything is done for the future: forge ahead with courage'), published by Rizzoli in 2013 to commemorate the centenary of his birth. The volume built on the documents and images preserved in the company's Historical Archive, taking the form of an extensive imaginary interview with his friend and entrepreneur.
Alberoni died in Milan on August 14, 2023, from complications of kidney disease, at the age of 93.
Giancarlo Gonizzi