ETTORE VERNIZZI – Decorator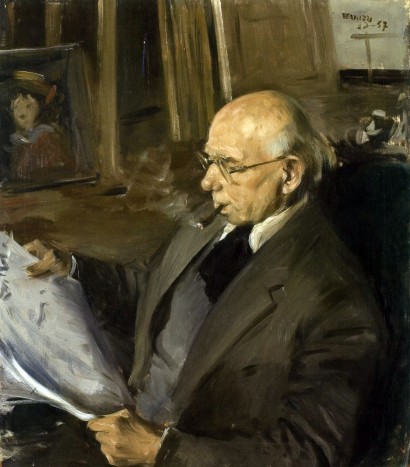 (Parma, 1880 – 1965)
Ettore Vernizzi was born in Parma in 1880 to Marcellino and Rosmunda Ferrari. At the beginning of the century he opened a workshop in Borgo Santa Caterina, where he practiced the profession of decorator, for which he was soon noticed and for which he himself – obviously – had designed the sign with features strongly influenced by Liberty Style, which was on the rise. Having married Aida Calzamaglia, in 1904 his first child Renato was born, who inherited a passion for painting from his father's skillful hand. A well-known painter of the Lombard Chiarista art movement, he ended up in Milan where he taught for many years at the Brera Academy.
In 1911 Ettore took part with several works at the International Exhibition in Rome, where he was awarded a Gold Medal for his category. Perhaps it was actually in Rome, where the Barilla pasta factory was also participating in the same event with its own stand, that he received an order to create the large billboard with the factory logo of the boy pouring a gigantic egg into a kneading trough full of flour. This was placed at the entrance of the factory on Via Emilia and used by the company until the 1930s. Ettore Vernizzi died in Parma, after a full life of work, on February 14, 1965.
Giancarlo Gonizzi
Bibliography
PELLICELLI Nestore, Guida commerciale della città e provincia di Parma (Commercial guide to the City and Province of Parma), Parma, Zerbini e Fresching, Year I, 1914, p. XIII.
VERNIZZI Renato, Mostra retrospettiva (Retrospective Exhibit), edited by R. De Grada, O. Patani, L. Vernizzi, Milan, Vangelista, 1986, p. 13.
GANAPINI A.I., GONIZZI Giancarlo (edited by), Barilla: cento anni di pubblicità e comunicazione (Barilla: one hundred years of advertising and communication). Milan, Pizzi, 1994, pp. 78, 86, 87, 151, 199.
GONIZZI Giancarlo (edited by), Mercato, negozio e società. Per una storia del commercio a Parma (Market, shop and society. For a society of commerce in Parma). Parma, PPS Editrice, 1995, biographical entry on p. 197.