EMILIO TROMBARA – Sculptor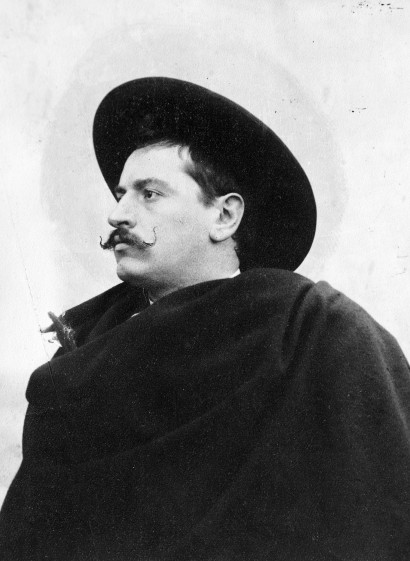 (Parma 1875 – 1934)
Emilio Trombara was born in Parma in 1875. Following in the footsteps of his father who was an architect, he attended the Institute of Fine Arts in Parma where his teacher of illustration was Cecrope Barilli and his teacher of sculpture Agostino Ferrarini. In 1907, Ettore Ximenes entrusted him with the task of restoring the sculptures in the historical Farnese Theater, in particular the equestrian statues situated above the large arches that flank the proscenium. He sculpted numerous works for his city. Particular mention should be made of the tiles of a Via Crucis (1909) and the baptismal font (1921) in the church of Sant'Antonio Abate, the Redeemer for the facade of the Foreign Missions and numerous bronze funeral sculptures for the Cemetery of the Villetta. He was also responsible for a fountain in the Parco Ducale in Parma that was lost in the bombardments of 1944. He enrolled as a Freemason and created numerous works on commission for England, especially after the mid-1920s. In 1910, by commission of Barilla, Trombara modeled the prototype of the little statue of the boy with the egg that was the pasta factory's trademark, which he himself designed and which was donated by his heirs to Barilla in 1995 and is still preserved in the Company's Historical Archive. Trombara made various versions of it on different scales using the multiple techniques in Scagliola stone, decorated in his workshop in Strada Salnitrara in Parma and used as a counter sign in the company's shops. He also made busts of Italian and Greek and Latin poets, which are still lined up in the 'Poets' Gallery' in the Castle of Soragna. Emilio Trombara died in Parma in 1934 and the archive of his activity is preserved by his heirs.
Giancarlo Gonizzi
Bibliography
CAPELLI Gianni, "Emilio Trombara, uno scultore da riscoprire" (Emilio Trombara, a sculptor to rediscover), in Malacoda, November – December 1995, no. 63, pp. 13-21.
MARCHESELLI Fabrizio and Tiziano, Dizionario dei Parmigiani (Dictionary of Parma People). Parma, Tipolitografia Benedettina
Editrice, 1997, p. 311.
DALL'ACQUA Marzio (edited by), Enciclopedia di Parma (Encyclopedia of Parma), Milan, Franco Maria Ricci, 1998, pp.
667-68.
LASAGNI Roberto, Dizionario biografico dei parmigiani (Biographical Dictionary of Parma People). Parma, PPS editrice, 1999, pp. 624-627.
GONIZZI Giancarlo, La città delle acque (The city of waters). Parma, PPS editrice, 1999, p. 105.