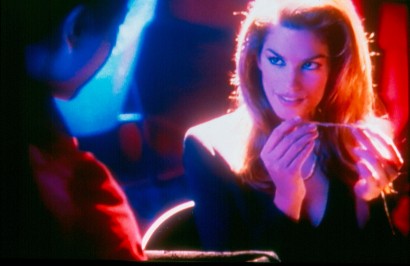 (Dekalb, Illinois, U.S.A., 1966 – )
From her youngest years, Cindy Crawford was noted for her beautiful looks and in 1983 she was finalist in the «Elite Model management's look of the year competition». In the following fifteen years, she became one of the most famous and sought after models in America, appearing on over 400 covers of magazines distributed worldwide and creating an unmistakable image for herself.
With the passing of the yeas, she started to make a transition from the world of fashion to the world of television: for six years she conducted the program House of Style aired on MTV and appeared as a fashion and make up expert as a guest on numerous talk shows; she collaborated with the American station ABC Television and was the producer of television programs and films. For a long time she was a testimonial for the "The Leukemia Society of America" in honor of her brother who died of leukemia at age four. She also supported research projects on tumors, both as a private cause and as a public campaign with Revlon for which she worked as a spokesperson. In 1994, under the direction of Italian American director Marco Brambilla she shot the spot «Tokyo» for the Viva il blu (long live the blue) campaign created by the Young & Rubicam Agency. After ordering a plate of Barilla spaghetti in an oriental restaurant, Cindy is surprised by a magical jewel pendant that when needed transforms itself into a fork, taking the place of the traditional oriental chop sticks.
Cecilia Farinelli