X International Exposition of Preserves in Parma, 1955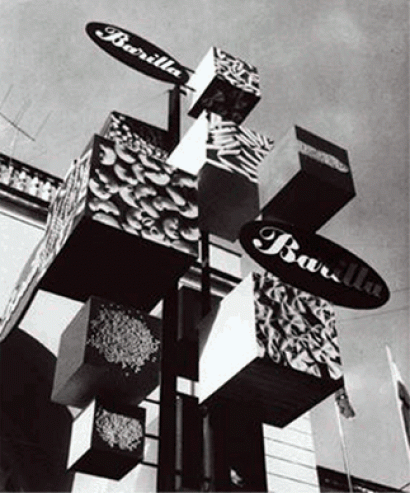 Parma, X International Exposition of Preserves and packaging. 20th-30th September 1955.
Once again, the presence of Barilla in the exposition in Parma brings an advertising contribution of particular technical and expressive audaciousness.
Outside the fair complex, a symbolic "tree" with a metal supporting structure was erected, sustaining along the "branches", a series of cubic boxes that present giant photographs, realized by Alberto Montacchini, of the most typical semolina and egg pasta shapes.
Solid figures, with various dimensions and placed at different heights, are still attached to a twin couple of piers forming a mutable composition that could be watched by multiple points of view.
To increase the vivacity of the aerial geometric complex, there is the alternation of the colored surfaces rekindled by the monochromatic tones in the facades that were free from pictures.
Placed at various heights and differently oriented from the centrality of the backbone, big oval signs branded Barilla stand out on a red (in case of semolina pasta) and a blue (for egg pasta) background.
Luminous diffusors placed in the cavity of the boxes allow an evocative vision of the stele also during the night hours.
In order to find a point of contact of the Parmesan model, masterly designed by Erberto Carboni and realized by Medardo Monica, with other expositional structures, it's necessary to refer to a famous structure of the end of the Twenties that raised a lot of interest in the field of the exhibitions. It's the stele designed by the architect Enrico Prampolini for the Futuristic Pavilion of the exposition in Turin of 1928.
The work, made up by another monolithic structure, positioned as advertising signal for the Turin exhibition, stood up as a new element compared to the usual solutions based on the horizontal layout articulations.
This is just a comparison of conceptual nature and not a stylistic one, given the diversity between the two expositional realities.
The Parmesan model, that can be watched turning around the horizon, allows a dynamic vision of the lively stele included in the peculiar landscape context characterized by the perspective of the Parco Ducale high trunk trees.
For its particular efficiency in terms of advertising, together with the simplicity of building, the Barilla totem was used for three editions in a row of the Fair of the Food Preserves, in 1955, '56 and '57. The Barilla Historic Archive preserves, besides the photographic documentation shown here and the executive project, the original model realized in the studio of the designer, to which the students of the Arts High School "P. Toschi" (1) of Parma inspire to for creating a second version in colors on the basis of the pictures of the time.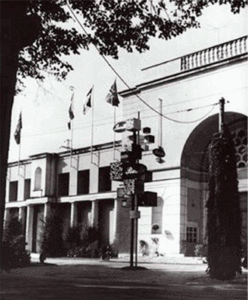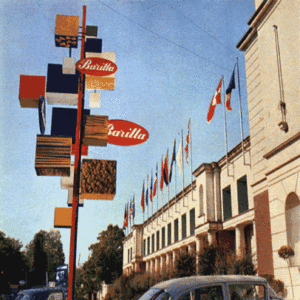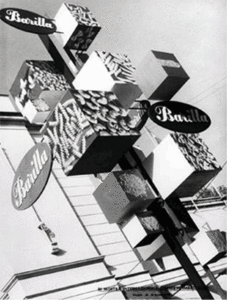 1) CARBONI Erberto, Progetto esecutivo Totem Barilla 1955. ASB, O, Cartella Fiere, 1955; Foto: Aa 305, 308, 314, 501; Modellino originale Scala 1:10; Modellino policromo di ricostruzione Scala 1:10.