Verdi Exposition. Parma, 1913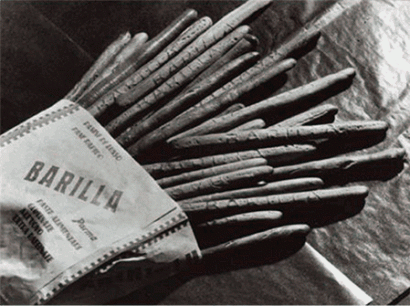 Parma, Ducale Park. Expositions for the centenary of the birth of Giuseppe Verdi. August-October 1913. Barilla Kiosk.
In 1913 in Parma, a great exposition dedicated to Giuseppe Verdi was getting started, in occasion of the centenary of the birth of the renowned musician. It was based on four main topics: Agriculture, Theater History, Fine Arts and Music. The place that was chosen for the exposition was the Ducale Park, which a multitude of qualified technicians and artists would proficiently "urbanize" exploiting in the best way the entire surface available.
The temporary facilities built in the large fan-shaped entry supported the curvy track of the pedestrian path and along the central boulevard, a peculiar pavilion was erected for Barilla – today it doesn't exist anymore – in a particular accessible space along the central boulevard, at the side of the monumental building dedicated to the Italian Theater Historical Exhibition. Barilla kiosk rose up from the grass to which it was inspired and it was designed for showing, cooking and selling bread remaining always active during the whole event.
As the Gazzetta di Parma [Parma Daily News] stated on August 26, 1913: "On Sunday, all the exhibitions and attractions obtained a huge success, but extremely successful were the breads of Barilla Brother's kiosk. 6,742 pieces of bread were packaged and sold every time they were removed from the oven as in just twelve minutes, the electric oven cooks at 300-degree temperature the bread that is put in the oven in two openings. The manufacturing of Barilla bread is made on a sort of open-plan kitchen that the public and expert operators can watch and that the public follows convincing itself on how with an absolute tidiness, with precision, with ability it's possible to do a brilliant job and satisfy all the requests, sometimes pressing, from the counter".
The architecture of this stand presented original features, not as much in the cube shape of the plant, as in the covering decorated with tree branches sectioned lengthwise and attached to the walls with invisible hooks. The kiosk was enriched by two windows, at the sides of the counter, while on the roof, covered in wooden tiles, the huge Barilla sign stood out studded with little lamps, and on the top similar to an ancient high point, the tridimensional brand of the Company designed by the artist Emilio Trombara (1875-1934) from Parma, rose up. It was the famous ceramic sculpture with the young boy that spills the giant egg in the cupboard, the original model, donated by the artist's family, today is collected at the Barilla Historical Archive.
Unique memory of this realization is a postcard, published by the Bocchialini Brothers and sold inside the same Exposition.