The First National Wheat Exhibition. Rome, 1927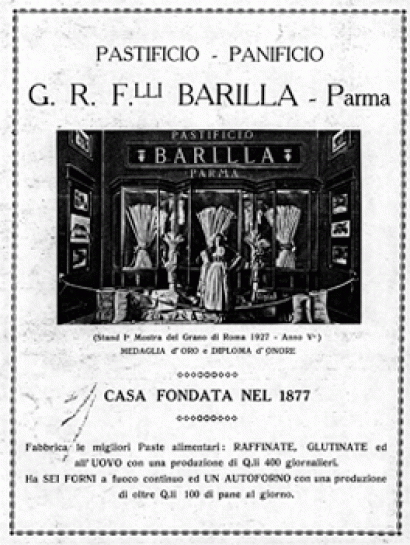 Rome. 1st National Wheat Exhibition. 9.X.1927.
In tune with the policy of the regime that pointed on the valorization of agriculture and on the food autonomy, of which the "Battle of Wheat" was one of the strength points, an Exposition on the theme couldn't be missing, always recurring to exalt properly the most precious product of the earth.
It's not by chance that for the "National Wheat Exhibition" the Modern Art Gallery in Rome was chosen as place for the exposition, where the large halls at the aristocratic floor were properly adapted to the expositional needs.
Among the guests there was also the "Pastificio Barilla Parma" [Parma Pasta Plant] that was given a huge expositional space with a 12 meters façade and about 20 meters high. In order to enlarge considerably the available area, the stand was set up as an accordion-like brochure in which the walls supported photographic inserts portraying the manufacturing enterprises of the Parmesan Company.
At the center, where there was a long sing limited by the emblems of the city, a window with strong molded wooden borders was erected and it was sustained by a high base on which three embossed wheat spikes stood out. In transparence, three bunches of spaghetti towered over with a tricolored band enveloping them at the center. This central section was geometrically coherent with the development of the lateral walls, marking in protrusion and in narrowing the dominant motif of the entire expositional layout.
A silk rope, anchored to golden bronze lion mouths, delimited the space in front of the windows, where with symmetric continuity, packages of pasta and boxes with a wide range of Barilla products were exposed. To the external corners of the stand on two tables, there were some transparent cellophane bags disposed like a pyramid containing gluten short-cut pasta shapes for children, as the poster visibly reminded through the Correggio-like reminiscent on the background of the walls that closed the stand.
The jury of the "National Contest for the Defense of Wheat" gave to the Pasta-Brad plant G.R. F.lli Barilla from Parma the golden Medal and the Diploma of Honor. The image of the awarded stand would be used – as it would happen also in occasion of other fairs – for advertising purposes and reproduced on the magazine Aemilia (1929, n. 1, 4th of cop.). At the center of the advertising page, with the stand, a young lady wearing a regional costume is portrayed and it reminds of a famous canvas by the Parmesan painter Cecrope Barilli that can be seen at the National Gallery in Parma.