1939 – The revolution of photography
After a few years of intense activity within the Company, it became clear that Pietro Barilla, not only intended to renovate the visual advertising communication, but also to raise its quality level. He relied on the creative talent of Erberto Carboni for the traditional calendar as well, as he had achieved a level of maturity in his extremely personal style, which in some respects was revolutionary. Pietro asked Carboni for something truly elegant and "suitable to the new times" for the 1939 calendar.
Erberto Carboni was undoubtedly the most suitable artist to elevate the image of Barilla out of provincialism, by projecting it in the field of art while declining in conjunction painting and architecture with photography.
The technique of photo-montage, graphically edited by Pizzi, had powerfully been introduced in the 1938 catalog printed in Parma by Zafferri: the photographs of the factory had been used for the cover, analyzed under the scrutiny of an artistic eye in all of its inner spaces: machines, presses, molds, pasta formats, raw materials and products were revisited giving unusual glimpses into the factory, and creating a powerful graphic and architectural effect.
These were captivating images that combined aesthetic pleasure with productivity, and the artistic production with the industrial production, according to the experimental models of Bauhaus.
Carboni chose for the cover of his calendar the photographic re-visitation of an expanse of white eggs, as these where by then considered the totem symbol of the Company, and superimposed on these a cheerful female figure, a beautiful and florid county maid who represented the "other half" of Italy: the population that fought the Battle for Grain and for autarkic independence.
The combined use of photography, and resorting to great texts of Renaissance art, the echos of Magic Realism, and in addition to this the fascination of color and the sharp and aristocratic contours, accentuated the rhythms and harmonies within Carboni's graphic style.
Month by month, Barilla's homage to women – such is the theme of the calendar – is a perfect amalgam of refined formal elegance and narrative content. It is a homage in accord with the historical and social chronicles of those years in which the Regime looked with great admiration to women, who were always mentioned in the speeches of the Duce (title assumed by Benito Mussolini in 1922) and who flocked to his presence in huge rallies.
The Carboni calendar as well as previous ones were printed in Milan by Amilcare Pizzi, who in 1936 had edited the catalog of the first national exhibit of advertising graphics. After all, by then Pietro relied almost exclusively on professional forces from the Lombard metropolis. On his part, he constantly intervened suggesting texts and checking on the printing and the rendering of the colors, in a continual commitment to quality.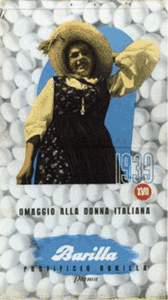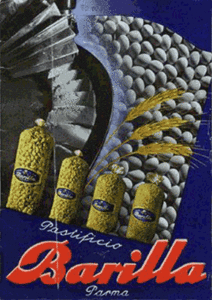 Erberto Carboni, Homage to Italian Women. 1939 Barilla Calendar. Wall Calendar. Milan, Pizzi e Pizio, 1938. ASB, Rla 11.