1937 – Pasta Barilla in Eastern Africa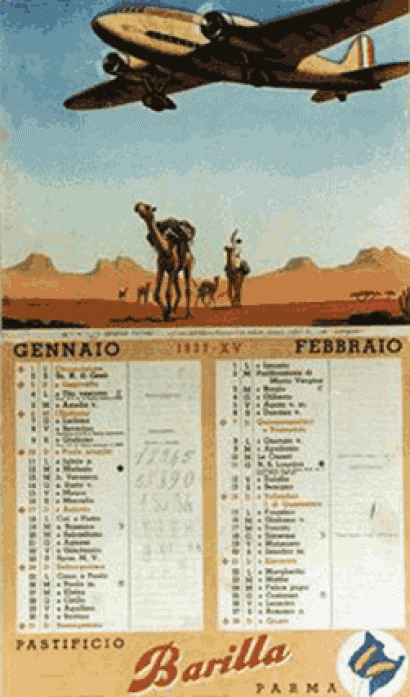 The 1937 Barilla wall calendar chased the echo of colonial campaigns in the territories of the Empire.
Among the first national companies to be involved with the colonial expansion, Barilla had stipulated an agreement with the Galbani company of Melzo to utilize together the commercial network and the deposits implanted by the cheese factory in Eastern Africa.
Various documents witness this presence on the territory, but the most suggestive photograph is a portrait of three black boys wearing clothes made from the white canvas sacks used for Barilla pasta.
However, the entire 1937 calendar was very far from the themes of the previous ones realized. Set up entirely in Rome by the Institute for Foreign Trade, it presented scenes exemplifying colonial conquest: these were Italian planes flying over a desert still crossed only by dromedaries, or scenes of Italian workers opening new communication roads, or planting new crops, breaking the chains of slavery, bringing schooling to villages and prosperity to the country fields thanks to the cotton plantations.
The Company logo appeared at the foot of the tables inspired to a rhetorical Verism style and inflated by the emphatic use of color, as Barilla was simply compelled to finance the calendar edition.
Unknown, 1937 Colonial Calendar. Rome ICE, 1936. ASB, Rla, 9