1933 – The geography of pasta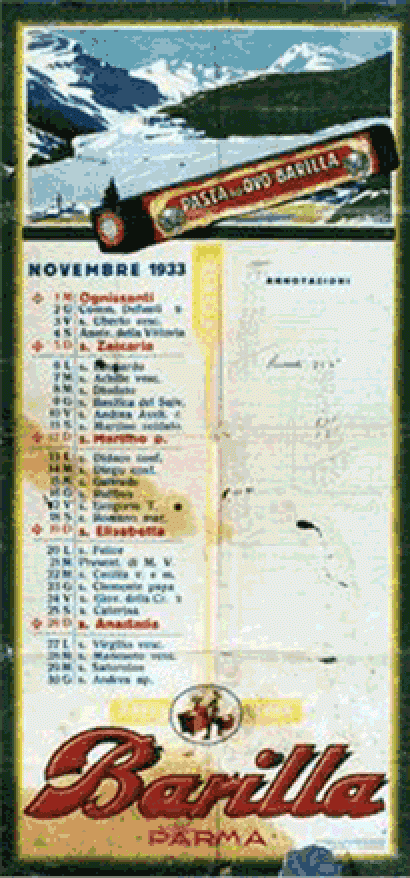 In 1933 Barilla published a monthly calendar – of which unfortunately only one loose page remains – featuring a variety of picturesque landscape views, marine or mountain locations, hillsides and planes, and associated with various different types of packaged pasta, specially highlighted.
The author, who remains unknown, worked in the context of the Zafferri Printing Works of Parma and could perhaps be identified as Pierino Barbieri, a lithographer and collaborator of Pietro Ambrosioni, the artistic director of Zafferri who was particularly active in those years.
The choice of a "dreamy" and happy environment in which to present Barilla pasta must not have been a new element, as it was reprised in the calendar of the following year, though with different tones and different collaborating artists.
Indeed, it must have seemed almost as a necessity, with the purpose of making the new calendar more pleasant and alluring to the taste of the store owners, since this was destined to be shown to the public for an entire year inside the shop.
Therefore the advertising lunar calendars are an important tool to analyze taste and its evolution through time, as they were very attentive to catch new trends and to capture the attention of consumers; in one word, they covered the role that television has today.