1922 – The green season of Carboni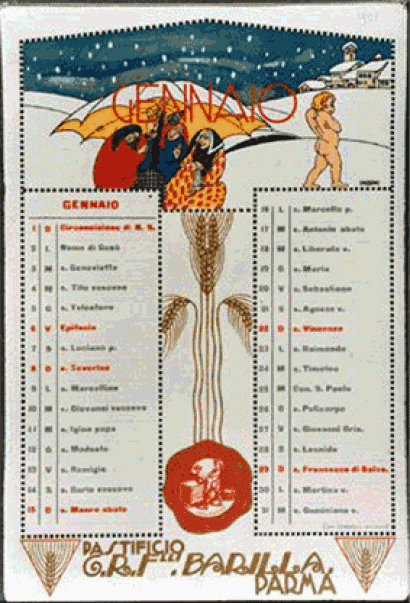 After the death of his brother Gualtiero, Riccardo Barilla devoted all of his energy to the expansion of the factory, certainly benefiting from the positive trend that had been inserted into the national economy between 1920 and 1924 and moreover comforted by the first immediate official recognition achieved in expo competitions.
The entrepreneurial optimism of Riccardo ad the positive trend of the Company were reflected in the advertising images of the early 1920s and in particular, in the calendars of 1922 and 1923 that were printed with refined care by the Chappuis Printing Works of Bologna, a company that legacy of prestigious typo-lithography and that together with the Ricordi printing company of Milan represented the cutting edge of Italian poster board art between Nineteenth and Twentieth centuries.
A very young Erberto Carboni was called to illustrate the 1922 calendar. The work, which up to recent times was unknown to biographers of the artist, represents a sort of incunabula of his graphic production dedicated to Barilla.
Behind the brown cardboard cover printed with gold, twelve iconography subjects inspired to the cyclical succession of seasons correspond to the monthly subdivision of the calendar sheets.
They present a moderately humorous reading of fables and folk traditions, from the tale of the three old ladies taking cover under an umbrella from the snow in the month of January, to the theater stage of Mardi Gras for the month of February, to the arrows shot by Cupid in the month of May.
This was a proof of the first collaborations of Carboni as illustrator of magazines, among which "Lidel", "La festa" (the party), "Il dramma" (drama), "Emporium", "Novella", or of book covers in those early years, to be considered within a more ample context.
The name of the company, with the round logo and the symbolic suggestions of products, expressed by the willowy and calligraphic stalks of wheat became an essential element of the composition which encased the text and showcased a geometrical crystallization of triangles and semi-circles.